2nd Annual Lexington Park Guitar Fest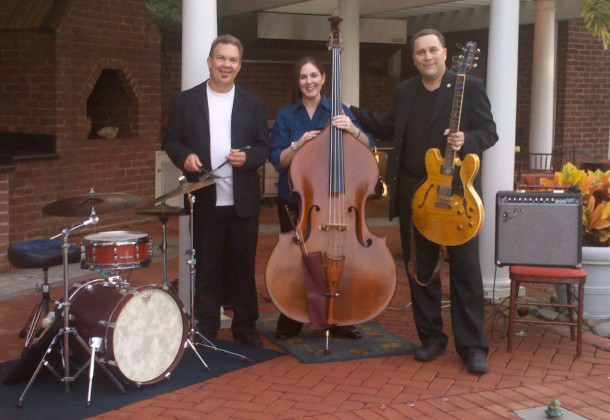 The Rob Levit Trio – Frank Russo (drums) Amy Shook (bass), Rob Lefit (guitar).
by Fred Heather, Power Jam Music Alliance Inc.
Join the Power Jam Music Alliance Inc. (PJMA) in celebrating the love of Guitar at their 2nd Annual Guitar Fest, Jan. 31, 2015 at the Three Notch Theatre in Lexington Park, MD.
The festival includes an afternoon workshop from 2:30 to 4:30 pm and a evening 7 to 11 pm Guitar Concert featuring Rob Levit, the Hamm-It-Ups, Bob Schaller and Friends, Coastline, Dave Mileto, Joe Molina, and Josh Riley. A free Art Show will open at 6:30 pm in the theater lobby during the evening concert, presented by the Color & Light Society and featuring more than 30 paintings by local artists.
PJMA's non-profit mission is to support musicians giving them opportunities to share their talent with the community and so it is that we proudly introduce at the Guitar Fest some new talent too of Dave Mileto, Joe Molina and Josh Riely. For more information go to the www.PJMA.info website.
The festival honors the guitar, a timeless instrument. it can be traced back to the Tanbur played by the Egyptians 4,000 years ago. The name "Guitar comes from ancient Sanskrit (the language from which the languages of central Asia and northern India developed); "chatur" means four and "tar" means string. The result was quitarra, early Spanish four-string guitar, or Italian chitarra, in the 17th century. The electric guitar was born when pickups were added to Hawaiian and "jazz" guitars in the late 1920's, but met with little success before 1936, when Gibson introduced the ES150 model, which Charlie Christian made famous.   The PJMA Guitar Fest celebrates these 4,000 years love Guitar affair with its annual Guitar Fest. The special Guitar Fest on 31 Jan is a must see concert for all those with passion for the tender sound of a 6 string Acoustic Guitar to the boldness of an overdriven electric guitar.
The event is sponsored by the Maryland State Arts Council and the St. Marys County Arts Council.The Maryland State Arts Council awarded the the Power Jam Music Alliance a Touring Musician's Grant that makes it possible to feature the world renown talents of Southern Maryland's own Rob Levit and the Rob Levit Trio including also Amy Shook on standup bass and Frank Russo on drums.
Rob Levit has recorded 17 CDs featuring his original music and has performed on the main stage of the Ottawa, Montreal, and New York jazz festivals. In addition to his performance career, Mr. Levit was the first Artist-in-Residence for the Hospice of the Chesapeake, where he created healing arts activities for patients, staff and families. As the Executive Director of Creating Communities, a nonprofit organization based in Anne Arundel County, Mr. Levit has designed and delivered music and arts programs for women and children in domestic violence shelters, homeless adults, veterans with PTSD, adults with severe mental illness and adults in addiction recovery. Mr. Levit is the 2011 Martin Luther King Peacemaker Award recipient, a 2013 Innovator of the Year recipient from the Maryland Daily Record and 2012 Mentor of the Year from the Anne Arundel County Volunteer Center.
Amy Shook moved to the East Coast in 2003 and quickly became one of the most in-demand upright bassists in the Baltimore/Washington, D.C. area. Her music is admired for its huge sound and infectious, driving groove. She is a versatile musician who enjoys playing jazz standards as well as new music by her local colleagues. Ms. Shook is also an  accomplished composer and in addition to her busy performance schedule, is also an accomplished music educator, and holds two bachelor's degrees (performance and composition) and a master's degree (performance) from the University of Idaho. Amy has toured and traveled extensively nationally and internationally as a musician.
Frank Russo joyfully paints colorful soundscapes with his highly skilled, passionate, musical drumming. He's an in-demand performer, recording artist and educator who currently resides in Maryland and teaches at Towson University. He is also an artist/educator for Bosphorus Cymbals, MD Drums and The Vic Firth Education Team. Raised in the NYC area, Mr. Russo was steeped in the rich musical heritage of the jazz legends at an early age and carriers on the legacy of a musical family. An incredibly adaptable musician, a partial list of his performances testifies to his diverse talent. He has performed with Mundell Lowe, Dr Lonnie Smith, Hal Crook, Craig Handy, Keter Betts, Ethel Ennis, Greg Gisbert, Chuck Redd, Bill McHenry, John O'Gallagher, Dave Ballou, John D'earth, Denis DiBlasio, Ron McCurdy, The Coasters, Frankie Lane and many more. Highlights of his performances include the Detroit Jazz Festival, Ottawa Jazz Festival, Stan Getz Jazz Festival, East Coast Jazz Festival, The Kennedy Center and many others. Tours have included several trips to Asia, Europe, Canada, Mexico and Bermuda.
In addition to performing, Rob Levit will also share some of his guitar skills at an afternoon work shop. This informal workshop is for those that would like to pick up some new techniques for playing guitar the Rob Levit way. He will show how he builds his unique sounds on the guitar, playing styles and more. Bring your guitar and learn some jazz techniques!
The remaining acts all hail from southern Maryland. The members of the Hamm-It-Ups are by far the most experienced guitarists for the concert with having formed their first group in 1974. Today, their group the "Hamm-It-Ups" features three guitarists: Ray and Mary Lynn Hammett, and Jeff Bowles. Eric Hammett is the sit-in tambourine player. They are very good at putting together some unique selections featuring lots of harmonies – well, at least three-part harmonies. Their influences go back as early as 1928 with ''Big Rock Candy Mountain," but they also do acoustic, harmony-soaked renditions of Cake and Tool, and even ''Call Me Seatbelts" by Cowboy Bebop, from the Japanese anime series .The musicians all reside in Lusby, MD and get together from time to time to just play music. Having rediscovered their acoustical guitar roots, they play a mixture of oldies and new songs and always leave you with a smile.
A guitar concert has got to have its jam band, and that role is filled by Bob Schaller and Friends. When Mr. Schaller was 12 years old in 1967, his sisters, brother and he had taken piano lessons for several years but the guitar was just a more interesting instrument at the time. He got a jumbo Silvertone or Harmony guitar with thick strings and he stopped playing the piano. For his 8th grade graduation, the next year, his parents gave him a Yamaha FG-150 acoustic which was much easier to play. He still has it today. His son-in-law is a classically-trained jazz player who's also had great influence on him too.
Mr. Shaller is most noted for starting the CSM Guitar Club in 2004 while a faculty member. The Guitar Club consisted of dozens of local guitarists, young and old, experienced and beginners, students and community members with varied music interests. He collaborated closely with Steve Cavanaugh of the Nanjemoy Creek Boys, to offer an Art of Jamming course open to the public at CSM. The two programs were offered across the tri-county area and involved over one hundred students and players. Bringing local musicians together enabled some to go on as groups, bands, or just to get together and jam on a regular basis. Mr. Schaller  has since played for GeeZer, a local group that features classic rock songs from their era of the 1960s and 1970s (and more). He loves bringing people together to share talents and learn from each other. For example, he's organized jam sessions, including Red, White, and Blues Jams on July 4th in Leonardtown Square the last few years. For the guitar fest he has brought together some close friends to close out the fest with several extended jams. Bob Schaller: Guitar; Scott Taylor: Guitar; Steve Cavanaugh: Guitar; Phill Clark: Drums; Mickey Ramos: Percussion; Dennis Logan: Keyboard; Sanford Brooks: Sax; and George Henderson: Bass.
Rounding out the program with solid acoustic songs is Coastline. They are an acoustic trio covering a wide mix of acoustic music to include: Alan Jackson, Barenaked Ladies, Uncle Kracker, Jimmy Buffett, Andy Grammer, Jason Mraz, etc. Coastline plays music that other groups don't play in Southern Maryland. Their focus is on relaxing music with solid vocals and harmonies. Rob Young and Bob Seeger both on guitars and vocals have played and sang together at church for 12 years and they have developed very tight harmonies and anticipate each other well. They really got started as a group about a year ago when they added Mickey Ramos on percussion and played almost 45 gigs in their first year. They are regulars during the summer at the Lighthouse and Front Porch restaurants and Slack Winery. Over the winter, they have played at Ruddy Duck, the Rex, Chiefs, Toots, etc. They also have played several private gigs and charity events.
The Color & Light Society began as an informal group of artists taking advanced oil painting classes with Elizabeth Bygler of Leonardtown, MD. The group developed a passion for painting fueled by the belief that exhibiting one's art encouraged learning, development, and pride of original work. On display at the 2nd Annual Guitar Fest will be artwork by Priscilla Catterton, Joann Coombs, Linda Sanborn, and Iris Hall-Willey. Jeanne Heather will debut as a guest artist.