26th Annual Wade-In Shines Light on River's Health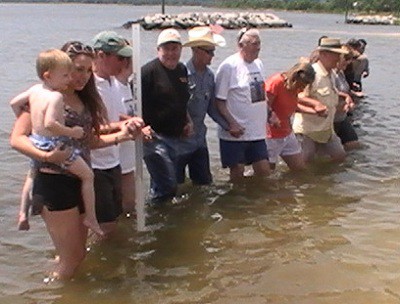 Posted by
Congressman Steny Hoyer
Pax II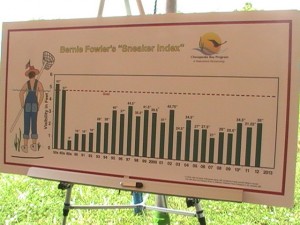 &
SMECO
Leading Edge
The Wade-In, which Bernie Fowler first held in 1988, is an effort to highlight the importance of cleaning up Maryland's Patuxent River – a tributary of the Chesapeake Bay. Each year, elected officials and local residents walk hand-in-hand into the Patuxent River until Bernie can no longer see his white sneakers, a non-scientific measurement called the "Sneaker Index," to gauge the health and cleanliness of the waterway.
Southern Maryland Electric Cooperative continued this 26th year as a sponsor of the event.
Congressman Steny Hoyer, along with representatives from Chesapeake Biological Laboratory, Morgan State Estuarine Research Center and the Department of Natural Resources were among those to attend the annual Wade-In.
"This event is about raising our consciousness, so we in turn can raise the consciousness of others" said Mr. Hoyer.
In 2011, the Chesapeake got a "D" in overall health on it's annual report card, but according to Dr. Walter Boynton, from the Chesapeake Biological Laboratory, we have learned why water quality is low, and know how to fix it. The problem, says Dr. Boynton, is that there is an overabundance of nitrogen, phosphorous, and sediment washing into the water. Fortunately, noticeable improvement has been achieved within two years in areas where precautions have been taken to prevent nitrogen-rich sediment from entering the water.
"That D is our D, not the river's D," said Mr. Hoyer, who says that what despoils the river is not a conscious decision to do so, but rather a lack of consciousness in every day actions that affect the quality of our ecosystem.
In order to improve the health of the river says Dr. Boynton, everyone should be more conscious of how we maintain our yards, use time release fertilizer and take other precautions to keep the nitrogen and phosphorous levels appropriate. He also spoke of the importance of joining and supporting the Patuxent Riverkeepers, and urged attendees to write to their representatives. This is a cause that needs political support, said Dr. Boynton, and our representatives need to know that it is important to us.
"If we don't act upon conscientiousness 365 days of the year we have not done what we should have" said Mr. Hoyer.
[youtube=https://www.youtube.com/watch?v=d7y-9D-5hHw]