With F-35s, USMC Could Dominate Naval Aviation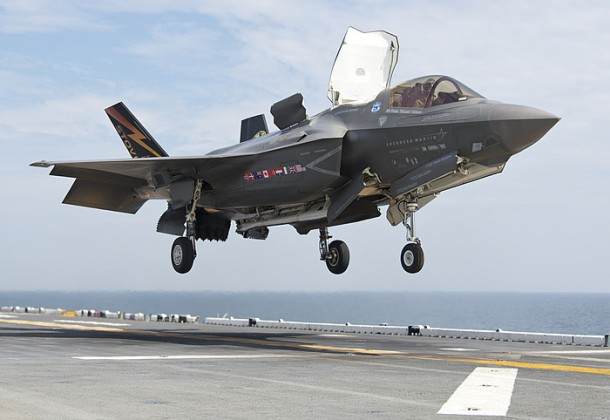 Morning Coffee is a robust blend of links to news around the Internet concerning the Naval Air Station Patuxent River

economic community. The opinions expressed here do not reflect opinions of the Leader's owners or staff.
With the US Marine Corps purchasing the bulk of the Navy's planned fleet of 680 Lockheed Martin's F-35 Joint Strike Fighters, the USMC will likely form the dominant component of naval tactical aviation in the coming years. The implication is that by the 2030s, it will be the Marine Corps' aviation assets that will be projecting power deep into heavily defended airspace from the sea instead of the Navy's full-sized flattops, The National Interest reports.
What will the US armed forces look like in 2035? The "Joint Operating Environment 2035" document seeks to lay out what the Pentagon will be facing in 20 years time in order to help guide how the Defense Department is spending its resources today, Defense News reports.
US Marines carried out a successful test of the F-35B's GAU-22 gun pod at NAS Pax River earlier last month, Business Insider reports. A few days later, the gun pod fired its first 80-round burst. Check out the video here.
The first F-35 Joint Strike Fighter squadron met operational readiness requirements, making at least 12 F-35s  ready for combat this week, The Daily Caller reports. "We have achieved all our milestones," Lt. Col. Steven Anderson, deputy commander of the maintenance group responsible for the F-35A squadron, told Defense News. All that is needed is a signature from Gen. Herbert "Hawk" Carlisle, chief of the Air Combat Command.
Blimps are becoming useful again, reports Gizmodo Australia. And because of that there could be a demand for Lockheed Martin's Spider bot. Spider is short for Self-Propelled Instrument for Damage Evaluation and Repair. The robot can crawl over the surface of an airship to find — and repair — tiny pinhole leaks.
The US Navy recently used a Gyrocam sensor system built by Lockheed Martin for a NATO-led security mission in the Aegean Sea, the Orlando Sentinel reports. The system uses high-resolution color and infrared sensors, along with night vision. The Vehicle Optical Sensor System, or VOSS I, was installed on ships within two weeks. "To support NATO's security mission quickly, the US Navy needed long-range detection and identification capabilities to identify ships and small water craft," Paul Lemmo, a vice president at Lockheed Martin, said in a news release.
AIN reports that Lockheed Martin has completed the critical design review phase of the VH-92A Presidential Helicopter Replacement Program. With the design milestone completed, the program now moves to assembly, test, and evaluation of the helicopter, the company announced last week.
Two US surveillance planes are involved in naval military drills conducted with the Singapore Armed Forces, The Strait Times reports. Singapore defense analysts welcomed the move, saying these P-8A Poseidon maritime patrol aircraft are technologically advanced and will provide that country's with valuable experience.
Northrup Grumman's autonomous Global Hawk unmanned aircraft system surpassed 200,000 flight hours last week, with the US Air Force's Global Hawks logging 88 percent of the hours, Homeland Preparedness News reports. The Global Hawk UAS operates at altitudes of up to 60,000 feet for more than 30 hours, which allows it to survey thousands of square miles on a single mission.
Less than a 100 days remain until the presidential election Tuesday, Nov. 8. The Washington Post reports that Hillary Clinton and Donald Trump enter the final days of an extraordinary presidential campaign, "with the former on a methodical march to energize the Obama coalition and appeal to the broad mainstream and the latter charting an unconventional path driven by a message of wholesale change."
Contracts:
L-3 Chesapeake Science Corp., Millersville, MD, is being awarded a $26,750,000 cost-plus-fixed-fee, firm-fixed-price, indefinite-delivery/indefinite-quantity contract for technical engineering services and material associated with Towed Array Integrated Product Team telemetry. Fiscal 2016 service cost center funding in the amount of $97,308 will be obligated at the time of award and will not expire at the end of the current fiscal year. Work will be performed in Millersville, MD, and is expected to be completed by September 2017. This contract was not competitively procured in accordance with 15 U.S. Code 638(r)(1)(4).  The Naval Undersea Warfare Center, Division Newport, Newport, RI, is the contracting activity (N66604-16-D-0845).
Honeywell Technology Solutions Inc., Columbia, MD, was awarded a $24,009,471 modification (P000214) to contract W52P1J-12-G-0061 for supply of the functions required to support what is currently known as maintenance, supply, transportation and other logistics functions for the Army Prepositioned Stocks 3 Charleston Afloat program. Work will be performed in Charleston, SC, with an estimated completion date of Aug. 14, 2017. Fiscal 2016 operations and maintenance (Army) funds in the amount of $24,009,471 were obligated at the time of the award.  Army Contracting Command, Rock Island, IL, is the contracting activity.
Argo Systems LLC, Hanover, MD, was awarded a $14,900,000 firm-fixed-price contract for construction of a vehicle control point located at Fort Meade, MD. Bids were solicited via the Internet with six received. Work will be performed in Fort Meade, MD, with an estimated completion date of Oct. 10, 2017. Fiscal 2015 military construction funds $7,450,000; and fiscal 2016 military construction funds in the amount of $7,450,000, were obligated at the time of the award. Army Corps of Engineers, Baltimore, MD, is the contracting activity (W912DF-16-C-0021).