Walden Block Party Kicks off National Recovery Month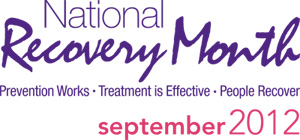 Posted for Walden Behavioral Health
Community Builder
By Mallory Lengel
Last Saturday, the normally drab parking lot next to the Lexington Park movie theater was decorated with balloons, sand art and flags for the first-ever Southern Maryland Recovery Block Party.
Walden Behavioral Health's Beacon of Hope Recovery Community Center and sponsors such as AA, Al-Anon, NA and more joined together to host an event where community members of all ages could come together in a family-friendly atmosphere and support National Recovery Month.
Booths surrounded the parking lot directly in front of Beacon Recovery Center offering activities such as face painting, sand art, karaoke, found poetry and more. Children played volleyball and catch with each other and volunteers who were working the event.
But the real purpose of the day's festivities ran much deeper than simply providing a fun time.
Walden's Beacon strives to provide help for community members who have nowhere else to turn. The community center serves not only as a substance-abuse recovery center but as an overall mental health recovery and wellness center. Many volunteers who staffed the event did so because they were helped by Walden and felt an overwhelming desire and responsibility to give back.
"To be healthy you need healthy relationships, and we help people to develop those relationships," said Laura Webb, Walden's Community Engagement Manager and one of Beacon's recovery counselors.
[youtube=http://www.youtube.com/watch?v=Wc8uRFGVvSM]
Beacon hosts events like the block party in order to reach out to community members who may need the kind of help that Beacon can provide, Webb said. These events help create a friendly, approachable, open environment.
One Block party attendee who has been receiving help from Walden and Beacon for 9 months said he was passionate about the program because of how it changed his life.
"If I hadn't been arrested, and received help, I don't know where I would be right now," he said "The program gives me structure and a place to go if I need to get away from my own thoughts."
Beacon also provides 'safe' activities to people who they help as well as career planning assistance and works to get health assistance to those who need it. Thanks to events like the block party it is possible to reach out to more of the community and let those in need know that someone is there to help them.