Volunteers Needed at AUVSI SUAS Competition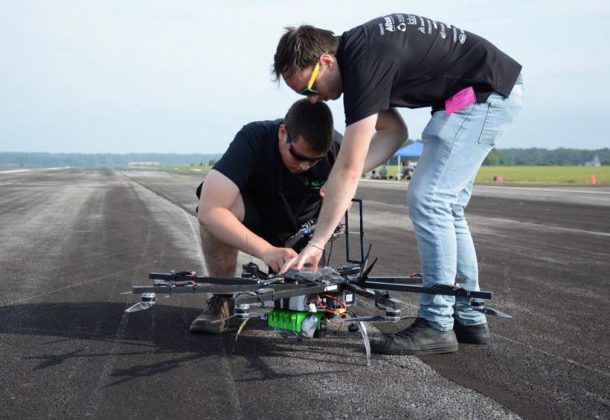 There is an opportunity to help out at the annual AUVSI SUAS Competition, and The Patuxent Partnership is helping to spread the word in hopes of recruiting some volunteers for the Wednesday, June 13, through Saturday, June 16, 2018, event at NAVAIR Webster Field.
Judges are a critical part of the competition, and AUVSI is once again looking for volunteers. There are various levels of commitment, including the evaluation of the technical papers, evaluation of the Flight Readiness Review Video, and of course, the actual flight competition.
The AUVSI SUAS Competition is designed to foster interest in Unmanned Aerial Systems (UAS), stimulate interest in UAS technologies and careers, and to engage students in a challenging UAS mission. The competition requires students to design, integrate, report on, and demonstrate a UAS capable of autonomous flight and navigation, remote sensing via onboard payload sensors, and execution of a specific set of tasks. The competition has been held annually since 2002.
If interested, contact Tom Sanders at Tom.Sanders@goCTSi.com with what phase or phases of the competition you would like to judge, if you have any experience as a judge in this competition from previous years, and your email address and phone number.
The competition begins in the end of August with the Notification of Intent, and concludes in June with the five-day culminating event at the Patuxent River Naval Air Station. For an overview of the competition, the history of the competition, and information about the judges, click here.
 In the next decade, it is estimated that 80 percent of jobs will require math and science skills. Programs like this are created to engage students of all ages in hands-on activities to stimulate their interest in math and science as well as careers in unmanned systems.
About The Patuxent Partnership
TPP fosters collaboration and the sharing of knowledge and expertise across a diverse network that includes government, industry, and academia. TPP also supports STEM education and workforce development within the local community including hosting programs of interest to NAVAIR, NAWCAD, and the broader DoD community.
To learn more about The Patuxent Partnership and its programs, visit its Leader member page.