Video: F-35B Short Takeoff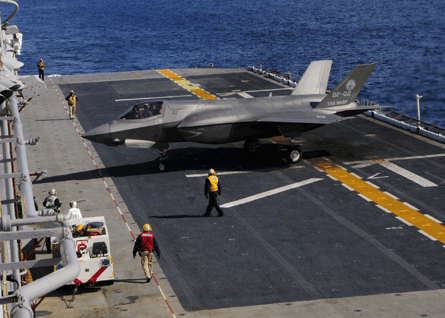 Welcome to Morning Coffee, a robust blend of links to news around the Internet concerning Naval Air Station Patuxent River, NAVAIR, the Pentagon and beyond. The Leader provides this link feature as a survey of the news affecting the local military economy. The opinions expressed here do not necessarily reflect those of the Leader's owners or staff.
[youtube=http://www.youtube.com/watch?v=V6r_4UM6Eso]
First production F-35B lift fan rolls off the line. Jet performing as advertized in sea trails. Program struggles to get out of probation.
SAIC could face $34 million bill for stolen TRICARE records.
UAV future bright, despite defense cuts.
China talks trash to Asian nations.
Lynn predicts heavy fighting in Congress (subscription required) over DoD cuts.
Pentagon report sees strong aircraft industry (subscription required), faltering shipbuilding.
Video: Flight deck disaster averted aboard carrier.