VADM Dunaway Sees a Navy-Centric Future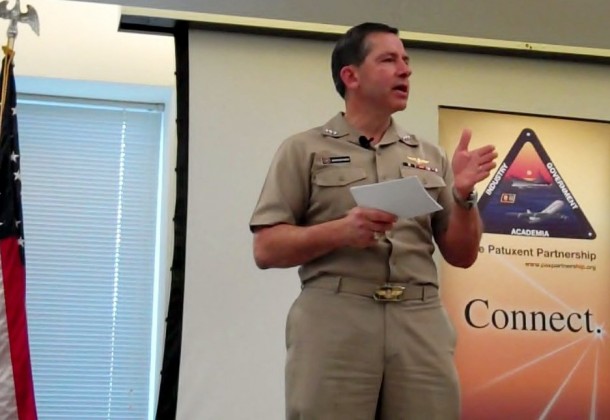 Posted for
The Patuxent Partnership
Pax II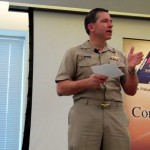 There is "not going to be a cataclysmic shift in my business in Nav Air," Vice Admiral David Dunaway, Commander of Naval Air Systems Command, told a couple hundred government contractors, business owners and community leaders this week. "And therefore probably not a cataclysmic shift in your business community either."
The upbeat message was given at a briefing Thursday hosted by The Patuxent Partnership. The overview from the vice-admiral heralded a Navy-centric future and emphasized a need ifor collaborative, innovative efficiencies to make naval aviation even smarter. Despite money going down, demand was going up for type of work that can be produced here at Pax River, he said. "The NavAir demand signal is going up."
Whatever the budgetary outcomes, "we continue to work our partnership as we go forward here in this community because it will make a lot of difference in how we perform." That, he indicated to the attentive crowd, is the route to everyone's success.
New economies will demand a mindfulness of any and every kind of savings, in production and process.  Money pressures will force innovations, efficiencies and "pressurize us to do things smarter." It is tax-payer money, Vice-Admiral Dunaway repeated, working together will become increasingly important.
The incoming commander's biography includes previous tours at NAS:Pax River and he praised the rural character, the quality of the schools and the welcoming nature of the community. And he made note of the community's strong connection to the U.S. Navy, including 151 students from St. Mary's County appointed to the Naval Academy by 5th District Congressman Steny H. Hoyer. Vice Adm. Dunaway said his son's class at the Academy contained 10 students from St. Mary's County.
Executive Director of The Patuxent Partnership, Bonnie Green introduces Vice Vice Admiral David Dunaway, Commander of Naval Air Systems Command.
[youtube=http://www.youtube.com/watch?v=zanr_vxfwOc]