Troops at US Border Following 'Legal Order'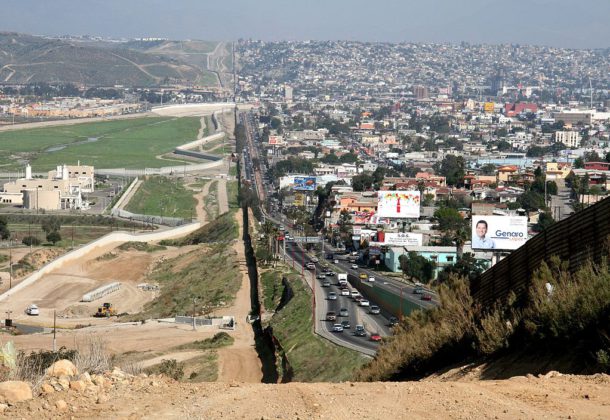 Morning Coffee is a robust blend of links to news around the internet concerning the Naval Air Station Patuxent River 

economic community. The opinions expressed here do not reflect opinions of the Leader's owners or staff.
Joint Chiefs of Staff Chairman Joseph Dunford rebuffed criticism from retired generals about deployment of active-duty troops to the southwest border, saying military leaders are following a "legal order" from the president, reports Military.com. On Oct. 31, DoD said it would deploy roughly 5,200 active-duty troops to reinforce US Customs and Border Patrol stopping a caravan of migrants approaching the US from Central America. Those deployed to the southwest border are not eligible for imminent danger pay but if deployed away from their permanent duty station for 30 days separation pay will be available to families, reports Military Times.
Defense News predicts the Democrats' control of the House will shake up defense policy in the coming year and raises the possibility impeachment proceedings against President Donald Trump.
Fourteen sailors from the nuclear reactor department of the aircraft carrier Ronald Reagan face disciplinary action in connection to LSD abuse, reports Navy Times. "Due to the defense in depth of the design and operation of the propulsion plants, the reactors aboard [the Reagan] remain safe," said 7th Fleet spokesman Lt. Joe Keiley.
Gov. Larry Hogan became the first Republican governor to win re-election in Maryland since the 1950s, beating  Democrat Ben Jealous, reports the Washington Times, in a race the governor said puts a red hue on a formerly deep blue state. Now, he says, it's time to spread the red, flexing his muscle on major political battles such as the upcoming redistricting process.
Navy opens facility for submarine-launched ballistic missile research, in Dahlgren, VA, reports UPI. The Missile Support Facility focuses on sub-launched ballistic missiles and the Columbia-class nuclear submarine program. It will be part of the Naval Surface Warfare Center Dahlgren Division.
Asian economies are grateful for a reprieve on Iran oil imports, reports AP News. Japan, South Korea, and other major oil importers welcomed the Trump administration's decision allowing them to continue to import Iranian crude oil and other petroleum products despite the re-imposition of sanctions on Tehran.
Wisconsin's deal with Foxconn was as bad as they come, reports Bloomberg. The state offered $4.5 billion to win the big factory. It will create some jobs, but at a staggering cost for taxpayers. Even if the Taiwanese electronics factory eventually increases its employment to 13,000 as promised, the cost per job created would be about $346,000.
Iran mocks US sanctions list, reports AP News. The US Treasury's imposed penalties on more than 700 Iranian and Iranian-linked individuals, entities, aircraft, and vessels, the list of which included a tanker that collided and caught fire in January killing all 32 sailors aboard and another was Iran's Tat Bank, which closed in 2012.
Navy Times links to a South China Morning Post video showing how close US and Chinese warships pass in the contested waters of the South China Sea. The footage shows a Chinese Luyang-class destroyer nearing the port side of the American guided-missile destroyer Decatur.
SecState Mike Pompeo's meeting with a key aide to North Korean leader Kim Jong Un is postponed, reports CNN. State Department spokeswoman Heather Nauert did not offer an explanation as to why the talks would be postponed, but two diplomatic sources told CNN that the move was clearly a signal that North Korea has not been willing to cooperate with the US's expectations up to this point.
Contracts:
Aegis Defense Services LLC, McLean, Virginia (W52P1J-19-D-0001); Janus Global Operations LLC, Lenoir City, Tennessee (W52P1J-19-D-0002); Reed International Inc., Leesburg, Virginia (W52P1J-19-D-0003); Sallyport Global Services, Reston, Virginia (W52P1J-19-D-0004); and Triple Canopy Inc., Reston, Virginia (W52P1J-19-D-0005), will compete for each order of the $4,000,000,000 firm-fixed-price contract for security support services. Bids were solicited via the internet with seven received. Work locations and funding will be determined with each order, with an estimated completion date of Nov. 1, 2024. US Army Contracting Command, Rock Island Arsenal, Illinois, is the contracting activity.
DMCA Inc., Arlington, Virginia (W91278-19-D-0001); Doyon Project Services LLC, Federal Way, Washington (W91278-19-D-0002); Facility Services Management Inc., Clarksville, Tennessee (W91278-19-D-0003); Herman Construction Group Inc., Escondido, California (W91278-19-D-0004); LEGO Construction Co., Miami, Florida (W91278-19-D-0005); Royce Construction Services LLC, Reston, Virginia (W91278-19-D-0006); and T&C Services LLC, Anchorage, Alaska (W91278-19-D-0007), will compete for each order of the $49,000,000 firm-fixed-price contract for medical facility repair and minor construction. Bids were solicited via the internet with eight received. Work locations and funding will be determined with each order, with an estimated completion date of Oct. 31, 2023. US Army Corps of Engineers, Mobile, Alabama, is the contracting activity.