TPP Panel: Early Collaboration Key to Program Success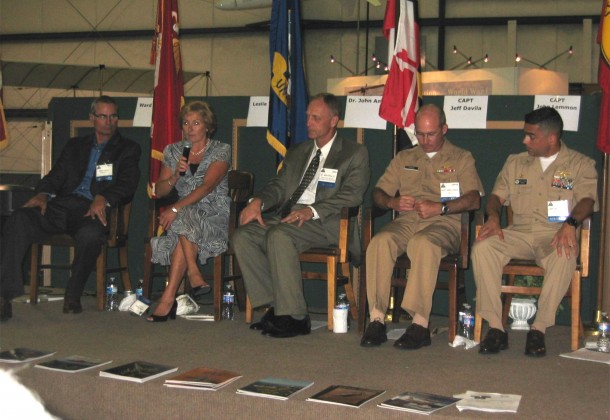 By Sheila Gibbons Hiebert
Posted by The Patuxent Partnership
Pax III
More than ever, finding efficiencies in the transition from developmental testing to operational testing will be key to the success – maybe even the survival – of Navy aviation programs, said a panel of experts convened recently by The Patuxent Partnership.
After a moment of silence to remember the victims of 9/11, the panelists explained how implementing early collaboration among project stakeholders in the development phase, and carrying that involvement all the way through to the execution phase, is the most productive way to achieve those efficiencies, particularly in a time of sequestration and general defense budget constraints.
Speaking to the panel's title, "Naval Aviation: The Future is Bright – T&E Collaboration and Processes," were keynoter Gary Kessler, deputy assistant commander for test and evaluation (AIR 5.0A), Naval Air Systems Command; Leslie Taylor, SES, director of flight test engineering, AIR 5.1; CAPT John Lemmon, USN, program manager, E-2/C-1; CAPT Jeffrey Davila, USN, commanding officer, VX-1; Dr. John Amy, Jr., senior advisor for EMALS Integration, Office of the Assistant Secretary of the Navy, Research Development and Acquisition. The panel moderator was Ward Carroll, editor, Military.com.
Mr. Kessler stressed how important it is "to reduce what we need to do in OT." He commended improvements in the cross-communication process among project stakeholders he's observed in the past three to five years but said even more is needed "across the continuum." An integrated evaluation framework will make sure "we understand what the final exam will be," Mr. Kessler said. He particularly stressed the urgency of eliminating duplication of effort.
Leslie Taylor lamented that capability doesn't receive as much initial attention as it should. "We're good at the wall chart, but then we don't look at capability for a while. We need to close the loop on upfront early analysis," she said. How? "By getting the final exam questions up early so you know what is expected."
Ms. Taylor is a strong advocate of "the College of T&E." "If you don't teach people how to do it, they don't know how," she said. "We need to build training environments so all the stakeholders know what's involved. We don't always understand one another, speak the same language. If we have to teach our testers, we have to teach our contractors, too. You break down a lot of barriers in the classroom."
Dr. Amy addressed the impact of reduced budgets. "The fiscal reality is that acquisition programs must get as much as they can out of available dollars, especially with testing and evaluation dollars. We've got to get it right the first time because we can't afford to do it all over again." He also endorsed the potential of training programs under way to improve consistency across the entire Navy T&E community.
There will always be things that won't emerge until the OT phase, simply because of the intensity of testing, CAPT Davila said, "Because we really take the aircraft on the road, string it out. But today when we see issues, deficiencies, we've shared those issues early and often, and that has value to OT." He also said it's also important to look at testing parameters in search of efficiencies. "We've gotten too much into how robust a test should be vs. how adequate it should be. That's where we're going to have to find those efficiencies."
CAPT Davila said he wouldn't want to see a reduction in resources devoted to early integrated collaborative efforts in DT because of budget constraints or other reasons because he believes they have such a positive impact on the OT side. In terms of how to measure the benefits, he said, "We may not see savings up front but we certainly would over the life cycle of a program."
Mr. Carroll noted that "a lack of agility" is a natural byproduct of bureaucracies. It creeps in as organizations become larger and more complex and as task teams focus on doing their portion of a project without much involvement with their counterparts, leading to the impediments the panelists say need to be eliminated to save time and money and ensure quality. It's something organizations have to resist. CAPT Lemmon acknowledged that overcoming this isn't always easy.
"Are there areas of friction? Absolutely," he said. "But we always look for the best way forward to get the product to the fleet as quickly as possible." The goal for DT, CAPT Lemmon said, "is a mature system with a high level of success expected in OT."
For audience member George Hurlburt, chief scientist at STEMCorp, the takeaway was the importance of education in changing outcomes. "What was interesting was the use of training to reinforce practice vs. the issuance of blind policy mandates," he said. "That offers some level of hope that natural bureaucratic resistance can be overridden in time."