Top HASC Democrat Calls for Larger DoD Budget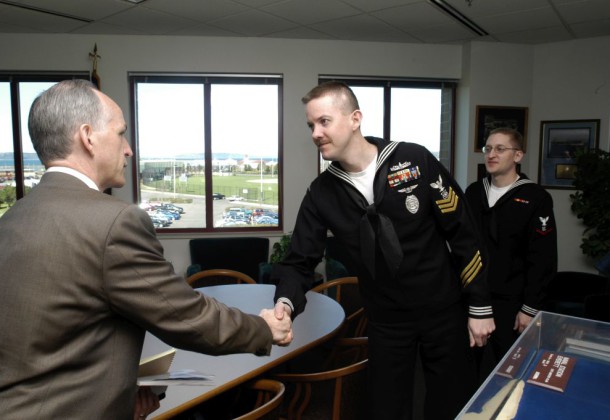 Rep. Adam Smith with Master at Arms 1st Class Eric E. Slish and Journalist 3rd Class Travis L. Clark on board Naval Station Everett, WA
Morning Coffee is a robust blend of links to news around the internet concerning the Naval Air Station Patuxent River economic community. The opinions expressed here do not reflect opinions of the Leader's owners or staff.

The top Dem on the House Armed Services Committee is open to increasing the administration's $609 billion defense request, joining GOP hawks, Rep. Adam Smith (D-WA) says threats have increased from the Islamic State in Iraq and Syria, and Russia, reports The Hill.
Defense Tech reports on Navy contingency plans to go low-tech to fight high-tech cyber attacks.
Fortune reports, Honeywell and United Technologies have held merger talks. A deal combining the jet engine maker and a supplier of airplane cockpits would create a company with sales of $90 billion.
A suspected Chinese radar installation in the South China Sea threatens US and allied stealth aircraft, reports USNI.
Military Times asks, What to do if the US starts capturing more suspected terrorists?
Pentagon to submit plan to Congress detailing closure of Guantanamo naval prison, reports UPI.
Twitter suspensions are muting Islamic State messaging, reports Defense One.
Even the Experts don't understand the new Social Security rules, says Yahoo.
US aircraft carriers' unchallenged primacy may be ending, reports The Washington Post.