Tobler Relieves Ramirez as Captain of PMA-264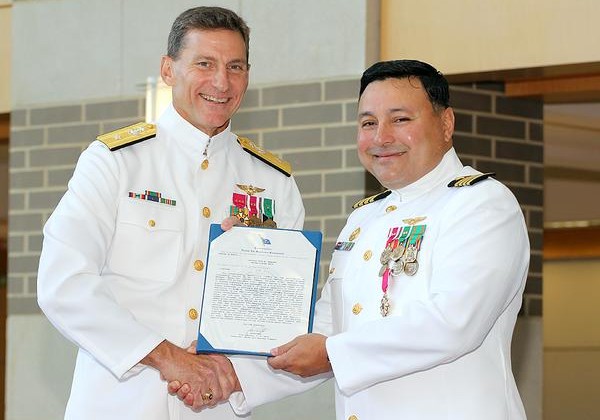 The Air Anti-Submarine Warfare (ASW) Systems Program Office (PMA-264) held a change of command and retirement ceremony Sept. 7 at the Moffett Building at Naval Air Station Patuxent River in which Capt. Matt Tobler relieved Capt. Luis Ramirez as commander.
Capt. Tobler will oversee sonobuoys, multi-static active acoustic search systems, high altitude ASW, and airborne ASW intelligence programs.
Rear Adm. Paul Grosklags, the program executive officer for Air ASW Assault and Special Mission Programs (PEO(A)), presided over the ceremony. He thanked Capt. Ramirez for his 25 years of dedicated service, and recognized his accomplishments with a Legion of Merit award and a certificate of appreciation from President Obama.
Capt. Tobler said, "The next few years will indeed be transformational for anti-submarine warfare. We will transition our sensors to a family of new platforms, and we will facilitate a new era of tactics enabled by wide area acoustic search and undersea engagements derived from global positioning system coordinates. … As we progress through these exciting times, we'll be challenged by technical and programmatic complexities, constantly evolving threats, and serious fiscal constraints. I have every confidence that success in this environment will be won by the unyielding efforts of the incredibly talented workforce that is PMA-264."