The F-35 Goes to War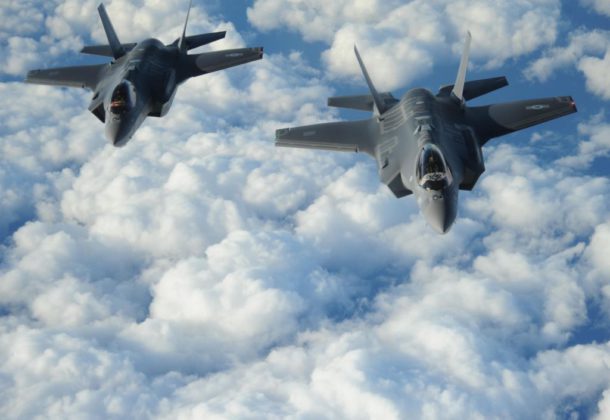 Morning Coffee is a robust blend of links to news around the internet concerning the Naval Air Station Patuxent River

economic community. The opinions expressed here do not reflect opinions of the Leader's owners or staff.
The F-35 makes its combat debut in Syria, reports Defense News. "We are the first in the world to use the F-35 in operational activity," said Israel Air Force head Maj. Gen. Amikam Norkin.
The Navy and Air Force still don't know what is causing physiological episodes impacting pilots of tactical aircraft like the F-35 and F/A-18 Hornet, reports Defense News, prompting the House Armed Services Committee to seek additional funding to address the problem in the 2019 defense policy bill.
Efforts to use the $1.3 billion federal Impact Aid Program for a school voucher program threatens passage of the National Defense Authorization Act, reports The Hill. The program provides funds for public schools impacted by military families within their jurisdictions.
The fiery B-1B Lancer landing In Texas was a commander's worst nightmare, reports Task & Purpose. The Air Force has released few details, but eye-witness photos and local media suggest an over wing fire
An inspector general audit finds the IRS is not patching software system vulnerabilities and doesn't know who has access to those systems, reports Next Gov. "Given that the IRS has not been able to provide this basic but critical information, we question whether the IRS has sufficiently inventoried, validated, and minimized the number of privileged users and accounts as required," the audit states.
South Korea cancels an exercise involving their and US aircraft to de-escalate tensions ahead of a planned June 12 summit, The Wall Street Journal reports. A Pentagon spokesman would not comment on whether B-52 flights had adjusted their courses in light of South Korean concerns.
The Army is able to immediately send about a third of its 58 brigade combat teams oversees to support operations, reports Army Times, a number it seeks to double by 2022.
Credit rating agency Fitch Ratings affirms Boeing's long-term "A" rating, reports MRO-Netowrk, but notes the company's plan to increase services revenue to $50 billion, up from last year's $15 billion, means Boeing must make more acquisitions or take market share from others.
Britain's Royal Air Force will take over command of the UK's military space operations, reports Aviation Week.
Roll Call calls it Zombie Zumwalt: The ship program that never dies. With its mission and functionality in constant state of flux, the Navy upped the cost for three ships which will reach at least $23.5 billion, nearly $8 billion per vessel.
Air Force Global Strike Command is conducting a weapons inventory across the command, following high-profile weapons losses at Minot Air Force Base in North Dakota, reports Air Force Times. Minot lost a container of ammunition for an automatic grenade launcher May 1 after it fell off a Humvee on a Native American reservation. About two weeks later, on May 16, Minot conducted a weapons inventory check and found an M240 machine gun was missing.
Secretary of State Mike Pompeo delivered hard-line demands to Iran in his first major policy address, reports The New York Times, insisting Iran end all nuclear enrichment programs and close its heavy water reactor, saying it did not have the right to such a program.