The Airmen of Note Return to CSM Jan. 25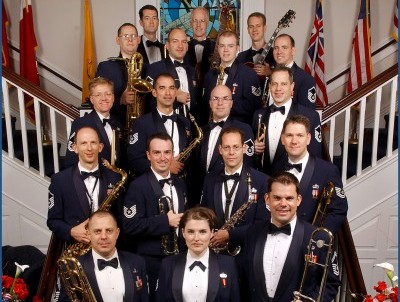 Posted for
College of Southern Maryland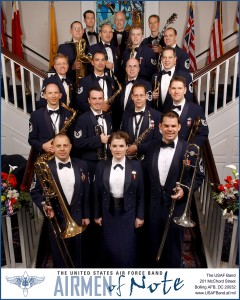 Pax III
The College of Southern Maryland will host the Airmen of Note, the top jazz ensemble of the United States Air Force, at 8 p.m. Jan. 25 in the Fine Arts Center, La Plata Campus.
"We are thrilled to have this talented group of musicians return to our theater," said CSM's Coordinator of Music Dr. Stephen Johnson."This is a great way to kick off an exciting spring season of music in celebration of the 30th anniversary of the Fine Arts Center."
The "Note" features 18 jazz musicians who have earned an international reputation as one of the finest and most versatile big bands in the world. In its more than 60 years of existence, the Airmen of Note has performed throughout the United States and for audiences in Europe and Asia. It has collaborated with jazz legends such as Dizzy Gillespie, Joe Williams, Sarah Vaughan and Nancy Wilson in the recording studio as well as in performances.
The Glenn Miller sound has remained a central ingredient in the band's musical heritage. However, over the years the "Note" has adopted a more contemporary sound. Current arranger Master Sgt. Alan Baylock helps maintain a commitment to the tradition of the group with an eye toward innovative pieces that fit the group's style and ability.
Admission to this event is free, although reservations are strongly encouraged to ensure seating.
For information, contact the Box Office at 301-934-7828, [email protected] or visit www.csmd.edu/Arts. The Fine Arts Center is accessible to patrons with disabilities.
Audio description for the visually impaired and sign language interpretation for the hearing impaired are available with a minimum two-week advance notice. If you are interested in these services, please contact the Coordinator of ADA at 301-934-7614.
For more stories on events at CSM, go to the LexLeader link.