Taylor Wins Navy Honor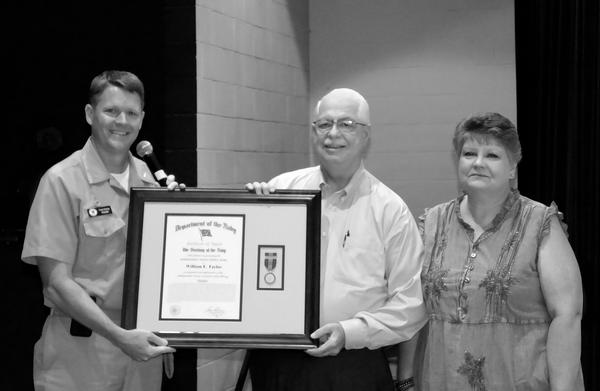 For the last 12 years, William Taylor has served as a civilian adviser to three F-18 program managers and has been a part of developing, enhancing, testing, delivering and sustaining a combined fleet of more than 1,700 aircraft.
The brass acknowledged Taylor's efforts Aug. 22 by presenting him with the Department of the Navy's highest civilian service award.
Taylor received the Distinguished Civilian Service Award because he "personifies long-term commitment and dedication to the success of the F/A-18 and EA-18G program as well as the people who support these aircraft every day," said Capt. Frank Morley, PMA-265 program manager, who Taylor serves as principal deputy.
According to the citation, with Taylor's direction and support, the F/A-18 and EA-18G program streamlined delivery of the AN/APG-79 active electronically scanned array radar to the fleet and Royal Australian Air Force and enabled the infrared search and track program to successfully reach a Milestone B decision.
"While I am honored by receiving this award, I am humbled as well by the countless individuals I have had the pleasure of working with over my years in PMA-265," Taylor reportedly said. "It is their dedicated service that has significantly contributed to the success of the F/A-18 and EA-18G program and to my being individually recognized. … It is rewarding to be honored in this way, not only for myself, but for the entire PMA-265 team. We are here in support of the fleet and this award is a testament to just how much the work we do at NAVAIR impacts each squadron as well as naval aviation as a whole."
Taylor also received accolades for his work with the F/A-18 air vehicle team to evaluate the steps necessary to extend the service life of the legacy Hornet aircraft. The assessment was completed in fiscal year 2009 and the extension program began.
During his time at PMA-265, Taylor received of the Chief of Naval Operations Admiral Stan Arthur Award for Acquisition Logistics Team of the Year in 2005 for his work as the F/A-18 integrated readiness support team lead. He also received the Navy Superior Civilian Service Award in 2003 and Navy Meritorious Civilian Service Award in 1996, according to the Navy.
"I am proud to serve alongside Bill," Morley reportedly said. "He practices the idea that successful leaders understand the importance of growing others."
Source: PEO(T) Public Affairs