Surgeon General Is Keynote at CSM Graduation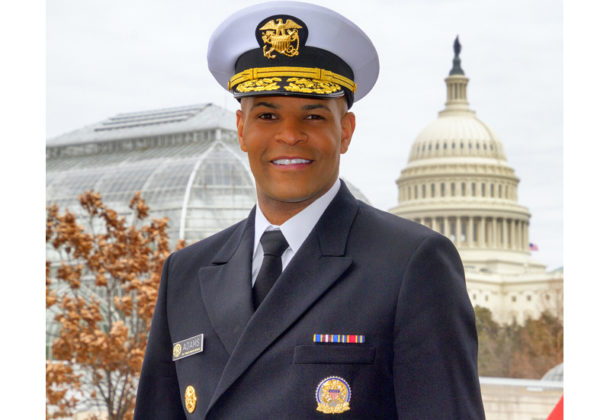 US Surgeon General VADM Dr. Jerome M. Adams will be the keynote speaker at College of Southern Maryland's 59th annual Spring Commencement Ceremony on May 24 at the La Plata Campus.
The Southern Maryland native grew up in Mechanicsville and graduated from Chopticon High School. He has earned bachelor's degrees in biochemistry and psychology from the University of Maryland, Baltimore County, a master of public health degree from the University of California at Berkeley and a medical degree from Indiana University School of Medicine. He was sworn into his current position Sept. 5, 2017.
Dr. Adams is a board-certified anesthesiologist and was Indiana state health commissioner from 2014 to 2017. He has also served as an associate professor of clinical anesthesia at Indiana University School of Medicine and a staff anesthesiologist at Eskenazi Health, where he was named chair of the Pharmacy and Therapeutics Committee.
Dr. Adams has been in leadership positions at several professional organizations, like the American Medical Association, the Indiana State Medical Association, and the Indiana Society of Anesthesiologists. He is immediate past chair of the Professional Diversity Committee for the American Society of Anesthesiologists.
Dr. Adams' motto as surgeon general is "better health through better partnerships." He is committed in his current position to maintaining strong relationships with the public health community and creating new partnerships with non-traditional partners, like business and law enforcement.
As surgeon general, Dr. Adams oversees the operations of the US Public Health Service Commissioned Corps, which has about 6,500 uniformed health officers serving in nearly 800 locations across the globe to promote, protect, and advance the health and safety of the nation and the world.
Spring Commencement Schedule
CSM's spring commencement activities start May 23 with the annual Honors Reception for those students whose academic work in specific areas of study is meritorious. Each academic division sees this event as an opportunity to recognize promising students. The reception is by invitation only to those recognized and guests.
A nurses' recognition program will be held at 1 pm May 24 in the Physical Education (PE) Building, with a reception afterward on the upper level.
The commencement ceremony will begin at 6 pm May 24 on the Administration Building (AD) lawn. Guests should arrive at least 30 minutes before the ceremony. A reception will follow the ceremony in BI Building, Room BI-113/113E.
Rain location for commencement is the PE Building and tickets are required. Students receive tickets for guests to use in case of inclement weather. If the event is moved indoors, overflow seating is available in the Fine Arts Center (FA) where guests may watch the ceremony via broadcast in the Fine Arts Theatre.
If activities have to be moved indoors, CSM will conduct bag checks at the PE Building and FA Center. Everyone may be subject to a bag check before entry. CSM Public Safety officials encourage guests to leave large secondary bags, diaper bags, and backpacks in their vehicles or at home as these will be subject to the bag check process at the door.
The La Plata Campus College Store will be open until 7:30 pm. A bookstore tent will have flowers, balloons, and refreshments for sale.
Due to commencement activities, the PE Building at the La Plata Campus will be closed for fitness and aquatics activities May 24. Normal operations will continue at CSM's other campuses.
For information on commencement, email graduation@csmd.edu or visit CSM's commencement site.
For more about the College of Southern Maryland, visit its Leader member page.