Students Earn Security+ Certification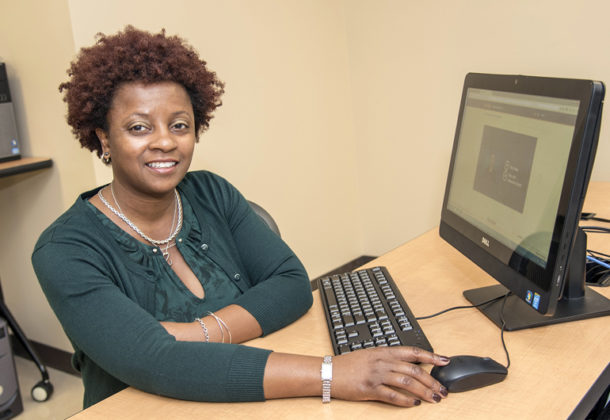 Tammie J. Thompson of Waldorf credits the CompTIA Security+ course at the College of Southern Maryland with successfully preparing her to earn Security+ certification.
As Tammie J. Thompson, a Waldorf resident, finished the CompTIA Security+ course at the College of Southern Maryland, she quickly found that the course successfully prepared her to earn Security+ certification, a valuable certification for information technology professionals which indicates mastery of foundational network security skills and knowledge.
Ms. Thompson did not just advance her skills; pursuing the certification also helped her be competitive and demonstrate growth in the security profession.
"Security+ is one of the most sought-after security certifications for those seeking jobs in or supporting the government," said Dr. Finis Massey, the CSM adjunct faculty member who teaches the course. "DoD Directive 8570 (soon to be replaced with DoD Directive 8140) requires a certain level of certification to operate on the government network. Security+ certification is one of the low-level security certifications that can open that government door."
Dr. Massey knows the value of "opening that government door" from personal experience.
"I spent 22 years in the military as a US Army paratrooper," he said. "Due to rapid deployments, endless training, and mandated vacations, I was only able to earn an associate degree by the time that I retired. I immediately saw the need to earn certifications as a way to get into the government workforce. The government workforce has been known as a stable, rewarding place to work, with great benefits. With each certification came increased responsibility and increased pay.
"Later, I realized that my supervisors all had degrees and were earning more, yet doing less. I embarked on an education journey, earning a doctorate in computer science with a focus in cybersecurity (IA) last year," he said. "Certifications are required to get you in and to prove that you are capable. Formal education is for life and is the division between the masses that only have certifications."
Dr. Massey uses that perspective as he teaches the CSM class. "I see myself in each one of my students and I understand that earning Security+ could be a means for getting a government job or being let go from a government job. I give my all to ensure that the students are prepared for the exam. It is a challenging exam."
"I would recommend this course to others because both CSM and the professor provide you with the material to ensure students success in obtaining certification," Ms. Thompson said. "The professor makes himself accessible, even after class hours, for any questions you have or to go over material you did not get the first go-round."
CSM's CompTIA Security+ course included several aids that helped Ms. Thompson in her study. "The Testout study tool CSM provided was very helpful," she said. "And the study material and board of notes and questions we went over during each class session benefitted me." Students can take the Security+ test at the Testing Center on CSM's La Plata Campus.
Ms. Thompson came to College of Southern Maryland after already earning impressive credentials — a master of science degree in administration, information resource management. Alongside her Security+ certification, she has earned Certified Information Security Manager certification through ISACA.
Ms. Thompson is a senior information systems security officer supporting the federal government. She recognizes the value of ongoing professional development.
"Professional development is valuable because it reveals the value an individual has placed into what he/she does as a profession and acknowledges how they want to excel at it," Ms. Thompson said. "Most importantly, it shows how much an individual has to offer, which are knowledge, skills and experiences that were gained from professional development."
Dr. Massey encourages people like Ms. Thompson to consider what additional education could do for their career. "The great thing about cybersecurity is that anyone can enter the field at any age," he said. "For those new to cybersecurity, I have a certification roadmap up in the back of my classroom. Students can map their new career paths and see what certifications are required to get them to their desired level."
For information about training toward the Security+ certification at CSM, visit CSM's website.
For more about the College of Southern Maryland, visit its Leader member page.