Students Compete at MATHCOUNTS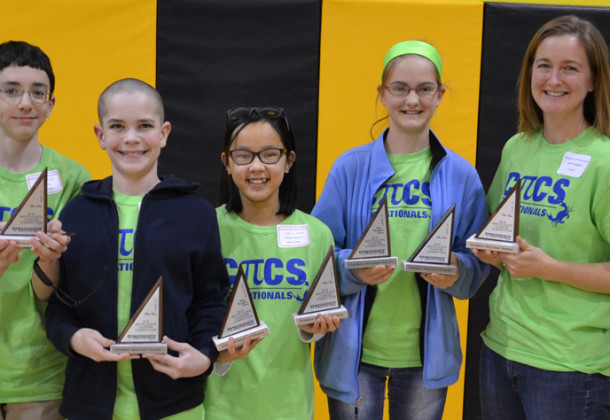 First place team: Chesapeake Public Charter School of St. Mary's County
From left, Liam Smith, Derek Nichols, Annalee Johnson, Hannah Torgesen, and coach Ayrin Torgesen.
Two St. Mary's County schools, Esperanza Middle School and Chesapeake Charter School, took the top spots at the 22nd annual regional MATHCOUNTS competition Feb. 6, 2016. The event, sponsored by Southern Maryland Electric Cooperative, brought more than 145 students from 21 Southern Maryland schools to Calvert Middle School in Prince Frederick to test their math skills.
Proficiency in mathematics is key in a competitive technological world. A foundation for success includes science, technology, and engineering. The purpose of MATHCOUNTS is to boost students' interest in math by making it both challenging and entertaining. Each year, schools across the country hold more than 500 regional competitions. Winners advance to state competitions and then go on to a national competition.
In MATHCOUNTS, students are challenged by rounds of mathematics problems one-on-one and as teams during the three-hour event. The first round is the sprint round, a 30-question test that students complete as individuals. Competitors then go to the target round, where they have four sets of math problems and six minutes to complete each set of two questions.
In the individual competition, which is based on combined scores in the sprint and target rounds, Emily Smith of Milton Somers Middle School in Charles County placed first and Emme Staats of Esperanza Middle School placed second.
In the team round, teams of four students answer 10 questions in 20 minutes. The top 12 scorers finish the competition by then facing each other in the countdown round, a single-elimination tournament where students have to respond out loud to questions in a matter of seconds. Hannah Torgesen finished first in the countdown round, and Annalee Johnson placed second. Both first- and second-place finishers are from Chesapeake Public Charter School.
In the team competition, Chesapeake Public Charter School won first place. Team members included Annalee Johnson, Derek Nichols, Liam Smith, and Hannah Torgesen, coached by Ayrin Torgesen.
Milton Somers Middle School placed second. Team members included Jack Glassman, Brandon Luton, Erin Possehl, and Emily Smith, coached by Jennifer Rowland.
Esperanza Middle School won third place. Team members included Gavin Furlong, Justin Martin, Allison Robinson, and Emme Staats, coached by Christopher Adams.
The team from Southern Middle School in Calvert County finished in fourth place, and the fifth place team was Northern Middle School in Calvert County.
Sponsors for the local MATHCOUNTS competition are SMECO and the Calvert, Charles, and St. Mary's county public schools, with the support of the National Society of Professional Engineers. Volunteers from the NSWC Indian Head EOD Technology Division and SMECO helped score the tests.
Winners of the Southern Maryland chapter competition will go on to compete in the statewide contest at Johns Hopkins University. State winners will progress to the national competition in Washington, D.C.
To learn more about SMECO, visit their Leader Member Page.