Storm Updates & Advisories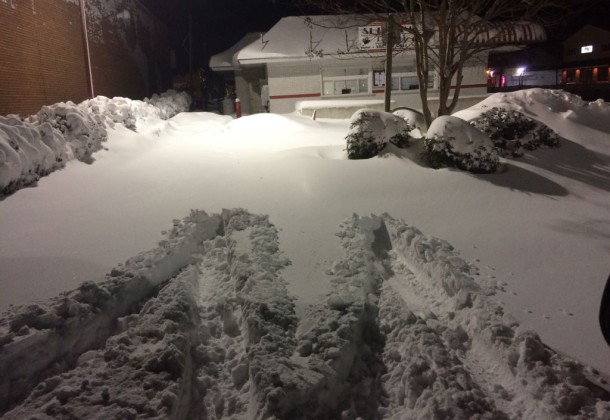 Showtime Deli, dawn, Jan. 24, 2016, Lexington Park, MD
UPDATE: The College of Southern Maryland will open and resume normal operations on Wednesday, Jan. 27, marking the first day of spring 2016 semester. Spring registration has been extended through Feb. 2. Visit mycsmd here or contact an adviser at any of the campuses to register or to add classes.
UPDATE: Due to weather closures, the Commission on Aging meeting, originally scheduled for Monday, Jan. 25, has been rescheduled to Monday, Feb. 1, at 1 pm at the Garvey Senior Activity Center at 41780 Baldridge St. in Leonardtown. For additional information, call the Department of Aging & Human Services at 301-475-4200, ext. *1051.
STS Transit will resume normal bus transportation operations, all six  Convenience Centers and St, Andrews Landfill will resume their normal hours, and all  St. Mary's County Library locations (Charlotte Hall, Leonardtown and Lexington Park) will resume normal hours as well.
Residents are asked to remain patient as plows continue to make their way through the county. To follow the progress of snow removal efforts in real time go to the Service Area Map.
Mild temperatures have brought about gradual melting. Drivers are urged to exercise caution and be alert for slick spots.
The National Safety Council offers basic tips for snow shoveling:
Do not shovel after eating or while smoking
Take it slow and stretch out before you begin
Shovel only fresh, powdery snow; it's lighter
Push the snow rather than lifting it
If you do lift it, use a small shovel or only partially fill the shovel
Lift with your legs, not your back
Do not work to the point of exhaustion
Residents should take the following actions when facing threatening weather conditions.
Keep devices charged so you will have a way to follow weather forecasts and local emergency information and be able to contact family and friends.
Be cautious shoveling snow or ice to avoid overexertion. Take frequent breaks and keep hydrated. If snow is accumulating on your rooftop, consider removing snow if it is safe to do so.
Avoid travel. If you must travel, make sure to have car chargers, kitty litter, or sand for traction, and extra drinks and snacks in case you get stuck in traffic. Let friends or family know of your travel route and expected arrival time.
Check on friends, neighbors, and relatives, especially the elderly or vulnerable residents who may have trouble staying warm or maneuvering on icy surfaces.
Residents living near coastal areas should be prepared to experience moderate coastal flooding and waves due to the high wind.
To report an electrical power outage to the Southern Maryland Electric Cooperative, call  1-877-74-SMECO (1-877-747-6326), go online to the SMECO website, or use SMECO's text messaging service. More information about text messaging or a SMECO 24/7 free app, visit here. The SMECO 24/7 free mobile app will allow customers to report an outage, view the outage map, or make a payment. Customers can also register for SMECO's texting service.
To learn more about preparing and responding to an outage visit SMECO's Prepare for Weather Leader Page.
Should customers encounter water or sewer service issues during the storm, call St. Mary's County Metropolitan Commission's Emergency Call Center at 301.373.5305. If your property is serviced by a grinder pump and you experience a power outage, conserve water until power is restored. It is normal for the sewage grinder pump alarm to sound for several minutes once electrical power is restored; however please contact MetCom at 301.373.5305 if the alarm continues. MetCom customers can stay updated at the MetCom website.
For information on how MetCom prepares for a storm and what you can do to safeguard your MetCom water supply and sewer service visit MetCom's Leader page MetCom Offers Storm Prep Advice.