Still Time to See Holiday Lights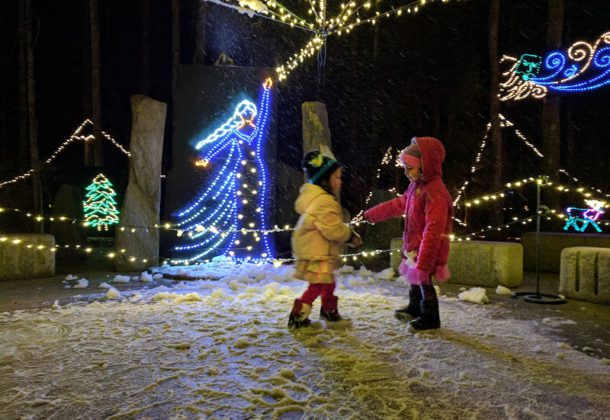 The Garden in Lights show at Annmarie Sculpture Garden and Art Center in Solomons will be open to the public from 6 to 9 pm through Jan. 1, 2018, and live entertainment will be provided each night. Jan. 1 is Pet Night.
Admission at the gate is $6; free for children 3 and younger; free for Annmarie members. Visit the website link above to purchase special advance tickets. Call 410-326-4640.
Annmarie Garden Entertainment Schedule
Sunday, Dec. 31, 6-9 pm — Captain John, folk mix.
Monday, Jan. 1, 6-9 pm — Susan J. Berman and Ray Saunders, acoustic mix. It's Pet Night sponsored by Prince Frederick Chrysler Jeep Dodge Ram; bring your well-behaved pet on a short leash. Thanks to our sponsor, pets are free Jan. 1.
To learn more about Annmarie Garden, visit its Leader member page.
Update: Light display at Flat Iron Farm is now closed for the season. Visit its Facebook page for information.
Visit Flat Iron Farm
There's also time to see the Flat Iron Farm Christmas Village & Light Display.
The light display traditionally runs every night through New Year's Eve. Visitors can turn into the farm off Flat Iron Road, tune their radios to 88.7, and watch the lights dance to the music through a drive Bubby Knott and his Great Mills Trading Post crews have turned into a magical ride into the Christmas season. The synchronized music and light displays are extraordinary and extensive. It's a drive through Flat Iron Farm not to be forgotten. Exotic animals graze on the grounds amid the grand, computerized lighting events.
Make this tour part of your Southern Maryland holiday tradition at the farm at 45840 Flat Iron Road (off of Route 5) in Great Mills. Call 301-994-0300.
Other events this week
The St. Mary's County Museum Division is presenting the 32nd annual Christmas Doll & Train Exhibit, the 11th annual Holiday Exhibit at the Piney Point Lighthouse Museum & Historic Park and a brand new exhibit stemming from the county's partnership with the Unified Committee for Afro-American Contributions.
The Doll & Train Exhibit continues at the St. Clement's Island Museum through Monday, Jan. 1. Hours will be 10 am to 4 pm Dec. 26 to Jan. 1. The museum is at 38370 Point Breeze Road in Colton's Point. Call 301-769-2222. Admission is $3, with age discounts.
The Piney Point Holiday Exhibit Christmas in Uniform will be held through Jan. 1. Hours will be 10 am to 4 pm Dec. 26 to Jan. 1. The museum is at 44720 Lighthouse Road in Piney Point. Call 301-994-1471. Admission is $7 person, $3.50 for seniors, student and with military ID.
The Unified Committee for Afro-American Contributions Holiday Exhibit "A Civil War Christmas" will continue until Jan. 1. Hours will be 10 am to 4 pm Dec. 26 to Jan. 1. The US Colored Troops Interpretive Center is at 21675 S. Coral Drive in Lexington Park. Information can be found at [email protected] Free admission.