STEM Achievers Honored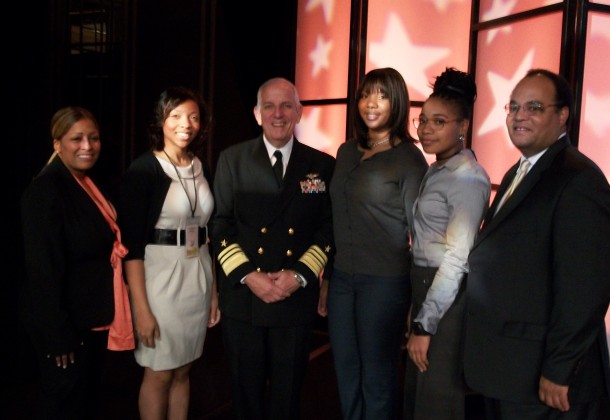 Nine NAVAIR employees were recognized for their leadership, technical skills and abilities in science, technology, education and mathematics (STEM) at the 16th annual Women of Color STEM Conference in Dallas Nov. 3-5.
"I cannot overstate the power of the stories of these individuals as they accepted their awards  stories of having overcome incredible odds, overwhelming challenges, and then succeeding academically and professionally," said Leslie Taylor, director of flight test engineering and head of NAVAIR's Women's Advocacy Group (WAG).
Yvonne Davis received a Career Achievement in Government Award for her 26 years of service. After working as a mathematician with Baltimore City Public Schools, she joined NAVAIR in 1985 to conduct software test and evaluation and software quality assurance on V-22, T-45 and EA-6B aircraft. She later became the first African-American to hold an upper management position within the AIR-5.0 Test and Evaluation Community.
As a child, Davis remembered watching planes take off and land at Friendship International Airport with her parents and brothers. Today, sitting in NAVAIR's range control room, she can still watch planes take off and land  only now, she manages that function as head of the Atlantic Test Range Operations Division.
"I was inspired to serve people and to give back to my country from my parents and my brothers," she said. "My parents always told me to remember that ordinary people can do extraordinary things. I believe that is what I have done in my life and my career."
Other awardees included: Adrienne Somerville (Special Recognition for Managerial Leadership Award), Marlene Jackson and Jackie Powell (Technology All-Stars), and LaTisha Durham, Candice Phang, Jacquelynn Pressey, Rebecca Squalls and Elen Tran (Technology Rising Star Award).
Tran and Pressey, who have both worked at NAVAIR for three years, said they enjoyed networking at the conference. Pressey cited the "Woman-to-Woman" session, where she received advice on her career and "how to be a rising star in everything you do."
"One of the takeaways for me from this conference is to think outside of the box, especially after listening to several of the keynote speakers, presenters and the personal stories of some of the honorees," said Jackson, a logistics management specialist who has worked for NAVAIR for 18 years.
Somerville, a 16-year NAVAIR employee and Community Management program manager, agreed. "Since I am a strong believer that in order to be a successful leader, you must travel the journey to leadership, being afforded an opportunity to listen and learn from such highly-regarding leaders, serving in both the private and public sector for the good of our nation, was very inspiring," she said.
NAVAIR relies heavily on STEM career areas to accomplish crucial research, testing and evaluation, and engineering services. NAVAIR is committed to hiring and retaining women in STEM fields, and its leaders are expected to recruit a diverse talent pool and promote career advancement opportunities for all employees through mentoring, training and recognizing achievements. In 2007, women represented approximately 14 percent of STEM positions at NAVAIR. In 2011, women now account for approximately 15 percent of all STEM positions  an increase of approximately 250 more women now working in STEM careers.
Pressey said she chose to become a systems engineer after three female engineers spoke at her school's career day when she was young. "I grew up inventing things," she said. "This was the best career for me to do what I've always loved to do."
While at NAVAIR, she has taken advantage of rotations throughout the Command and the Pentagon. "The best part was all of the great people I've had the chance to meet who took me under their wings, mentored me to succeed and continually challenge me to [be] better," she said. "Their support is why I work harder every day to support our warfighters who selflessly protect our nation."
The WAG, established this past July, is one of three sub-teams operating under NAVAIR's Executive Diversity Council, a senior leadership group that provides guidance, advocacy and support in areas related to workforce diversity and inclusion. The WAG makes recommendations to NAVAIR senior leaders on topics such as family friendly work policies, STEM initiatives and mentorship.
"With increasingly higher demands on an already stretched workforce, all employees need to be included, empowered and energized to contribute," Taylor said. "We are facing some of the greatest technological challenges and volume of work that we've seen in NAVAIR. Again, we need an environment that enables everyone to succeed at their highest level."
Taylor advises women pursuing STEM careers to surround themselves with honest, forthcoming mentors and friends who can help them navigate their education and careers and who aren't threatened by a woman's success.
"The most important advice to women who want to pursue STEM careers is to have confidence and go for it," she said.
Squalls, an electronics engineer who grew up in the inner city, did just that.
"People kept telling me there weren't a lot of women in the field, which made me want to be one of the few," she said. "I also wanted to inspire future generations to succeed against the odds."
At the conference, hosted by Women of Color Magazine, more than 1,000 attendees participated in professional development and recruiting opportunities, learned technical and management skills at a variety of workshops, and enjoyed multicultural entertainment.
For more information on future Women of Color events, contact NAVAIR's National Recruitment Program at 301-342-4026.
Source: NAVAIR Headquarters