Thunder Unveils the Un-cool


Statues are for Heroes, Cash for Condoms, People Who Used to be Cool
Catchy title, no?
It's been a busy, unsettling off-season for football fans. Czar Roger Goodell, NFL Commissioner, channeled his inner Vladimir Putin and came down hard on the New Orleans Saints because of their bounty program. For the uninitiated, the Saints players and coaches basically operated a slush fund which paid out cash bonuses, or bounties, for targeting opposing players for injures that forced them to leave games. Among the most severe sanctions ever levied were the following:
Assistant coach Gregg Williams: suspended indefinitely
Head Coach Sean Payton: suspended one year
General Manager Mickey Loomis: suspended eight games
Assistant head coach Joe Vitt: suspended six games
$500,000 fine
Forfeiture of draft picks
In addition, four current and former players received suspensions, the most severe of which is Jonathan Vilma's, which lasts a full year. Vilma took exception and has filed a defamation suit against Czar Goodell, claiming that the league lacked substantial proof. A federal judge seems to be leaning Vilma's way and may soon issue an injunction against the NFL's suspension. If the judge so rules, Vilma's suspension may be overturned which may cause a new evaluation of the NFL's case against the others. If it's found that Goodell acted presumptively, the NFL could be exposed to expensive litigation and a public relations nightmare which ultimately may cause Goodell his job. Stay tuned.
If Goodell already didn't have enough on his plate, he's also locked out the NFL Referee's Association while negotiating a new collective bargaining agreement. We now face the unpleasant possibility that the league season will open with replacement referees. For an organization that has paid lip service to player safety, entrusting replacements with players' health and safety seems hypocritical at best. The major bone of contention is that the NFL wants to add more officiating crews and cut their pay. In a response as predictable as mullets at a NASCAR race, the officials rejected the plan and have filed a complaint with the Nation Labor Relations Board.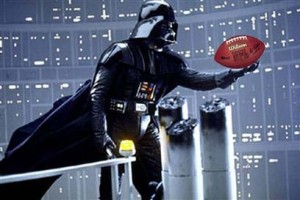 Even as Goodell becomes more and more like Darth Vader, the Penn State scandal dominated the off-season news. I won't revisit the long, sorry narrative here. What happened was a tragedy to the young boys who were abused for at least a decade by a former assistant of Joe Paterno who played his fiddle as Happy Valley burned. What continues to irk Thunder, though, is the legion of Joe Paterno apologists who still think Paterno was tarred and feathered without any proof of wrongdoing. They mourn the legend being sullied and that Paterno's statue was hauled away from its honored place in front of the football stadium. These people go on to say that Joe Paterno didn't know in either 1998 or 2001 that this abuse was occurring. If so, he would have done something about it. He really didn't know for sure, they argue, until fall of 2011.
Let's assume for a moment that's true, although it flies in the face of common sense and all the accumulated evidence. What did Paterno do in fall of 2011? Did he call a press conference to reveal the scandal and apologize to the victims? No, he met with Penn State officials behind closed doors and negotiated a $3 million dollar retirement bonus. So, to all the apologists, sit down and shut up! Statues are for heroes and Paterno is not a hero, only a man too concerned about his legacy and bank account to do the right thing.
On a slightly less severe note, Chad Johnson, formerly Chad Ochocinco, was recently charged with assaulting his wife of six weeks. His new employer, the Miami Dolphins, quickly waived Mr. Johnson regardless of their dire need for help at the wide receiver position. The alleged assault arose from an objection newly-minted Mrs. Johnson had upon finding a credit card receipt for condoms in Mr. Johnson's car. Alas, the honeymoon was brief.
Not to make light of the situation, Thunder realizes that domestic assault is a serious issue and if Chad did indeed lay hands on the righteously indignant Mrs. Johnson, he deserves a stretch of time in jail to realize the error of his ways. But buying condoms with a credit card? Who does that? Do you need the receipt in order to return them for a refund? â€-Excuse me, Mr. CVS clerk, I found these condoms too large/small/not aesthetically pleasing to me/her and/or I decided to go with another brand because of the manufacturer's carbon imprint/stance on gay marriage." Receipts are evidence, people! So let's all agree, cash for condoms! I'm just saying.
Thunder ponders that all three gentlemen listed here used to be cool, admired far and wide. Mr. Goodell was once hailed as a breath of fresh air, admired for his strict discipline of players by the public who felt that the typical NFL player was a prima donna not subject to real-life rules and constraints.
Joe Paterno was hailed as saintly for his emphasis on education, not just football, and for his many good works in the community. Chad Johnson, a former All-Pro, was lauded for his skill and often humorous personality.
Now, Goodell has a federal judge aiming for him; Paterno died with a humiliating stain on his legacy; and Chad Johnson is unemployed with his wife filing for a divorce.
So remember people, most of our wounds are self-inflicted. Don't believe your own hype, because it's not about you, it's about how you treat other people that counts. Even the mighty can fall.
Except Thunder. Thunder shall always reign supreme!
See you soon.
The opinions expressed here are Thunder's and not necessarily the opinions of The Leader, its owners or staff.