State Demands Erosion Law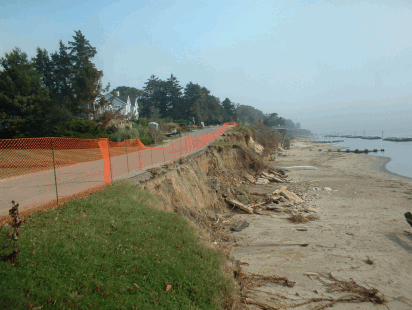 State regulations require all counties and municipalities adopt an ordinance that meets the intent of the erosion and sediment control law and regulations and the 2011 Maryland Standards and Specifications for Soil Erosion and Sediment Control. This may be a separate erosion and sediment control ordinance, or combined with a grading or stormwater management ordinance, or both.  Municipalities may adopt the ordinance of their respective county through the execution of legal documentation that is to be submitted to the Maryland Department of Environment Water Management Administration (MDE/WMA).
The 2011 Standards and Specifications along with additional information regarding their implementation can be found at by clicking here.
The Maryland Model Ordinance for Erosion and Sediment Control, dated February 2012, serves as a template for creating or revising local ordinances and represents the minimum information that should be included in all local codes. At a minimum, all ordinances must contain procedures to ensure that a building permit is not issued prior to a project having an approved erosion and sediment control plan. The inclusion of sections describing the review and approval process for erosion and sediment control plans and establishing performance bonds is recommended. The scope of the inspection and enforcement sections may differ, depending on whether or not a jurisdiction has been delegated enforcement authority.
Questions or concerns regarding the ordinance process should be directed to Maria Warburton at 410-537-3632 or via email at: [email protected].
Source: St. Mary's County Public Information Office