St. Mary's College Professor in Istanbul as Protests Erupted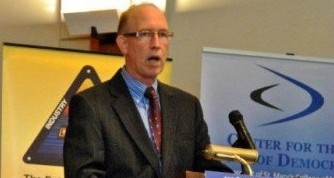 Posted by
St. Mary's College of Maryland
Bay Leader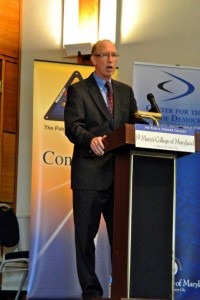 by Mallory Lengel
As protests erupted in Istanbul, St. Mary's College professor Michael Cain was watching.
People were camping in the park and police decided to remove them, using what many describe as excessive force. "There was no question about that. I got a chance to see that, I was staying near a hospital and that night I saw many, many kids coming in that were beaten in some way," Cain said.
Mr. Cain, director of the Center for the Study of Democracy, recently concluded  trips to the Middle East and Caspian Region as part of research and international outreach efforts. He was returning from Turkey just after protests erupted in Istanbul.
Protests originally began in response to local government plans to remove green space from Taksim Square and replace it with a monument to the Ottomans. Tensions in Istanbul are already high within the secular population, according to Mr. Cain. What began as a local government issue, due to what Mr. Cain refers to as a heavy-handedness by the government led to a much larger protest.
Once the public witnessed the police brutality they began to join the protestors and the demonstration grew more robust.
Dr. Cain has traveled to nearly 20 countries since joining the faculty at St. Mary's College, frequently working in Europe and Eurasia. He said, "These trips are important not only to learn more about the region, but also to share our perspectives and knowledge about democratic processes in the U.S.  Wherever I go in the world, policymakers, students and government officials want to hear about our system and how it functions as well as our perspectives on their countries."
[youtube=http://www.youtube.com/watch?v=rnBLkCN6A0Y]