Spring is Blooming at Annmarie Garden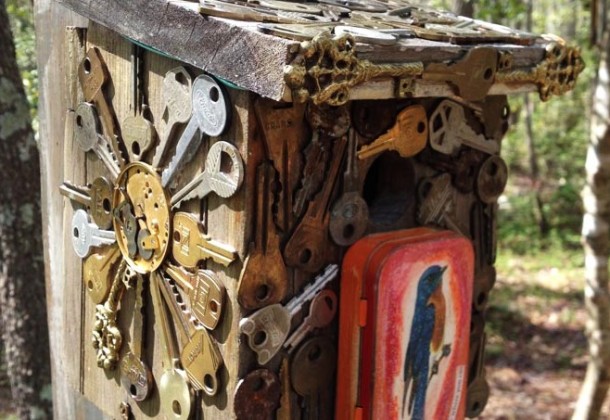 Posted by
Annmarie Sculpture Garden and Art Center
Community Builder
SOLOMONS, MARYLAND – Annmarie Sculpture Garden & Arts Center (Annmarie Garden) celebrates spring with budding blossoms, growing leaves, baby birds, Home Tweet Home, tree pops, butterflies, and bumble bees! Over 500 Glenn Dale Azaleas are peppered around Annmarie Garden, creating a colorful display for all who visit…a great many are blooming now with colors ranging from red, pink and white to purple. Visit Annmarie Garden over the next few weeks and enjoy the vibrant display of color!  Please ask for your complimentary Azalea Search and Learn Guide upon your arrival.
In addition to blossoming Azaleas, Annmarie Garden is home to over 20 typ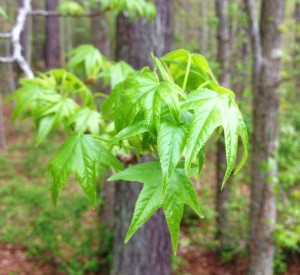 es of trees, including Loblolly Pines, Easter Red Cedars, Maples, White, Red, and Pin Oaks, American Hollies, Sweet Gums, Tulip Poplars, Magnolias, Sassafras, Ironwoods, and Flowering Dogwoods to name a few. The Loblolly Pines can reach a height of 100-115 feet and often grow in large stands or groups, with a rapid growth rate. Annmarie Garden has named the outdoor play area the Loblolly in recognition of the tall wonders that surround. Children and adults can jump from tree stump to tree stump, play hide-and-go seek or 'house' in two of the small homes, perform on the stage, and explore this rural area.
Mama Bluebirds are busy nesting with woven grass, pine needles, and straw in the many Bluebird houses located throughout the Garden. Annmarie Garden is delighted that these bluebirds have made their homes here.
The Butterfly Garden, located adjacent to the Arts Building and covering 4800 square feet, is sprouting! Begun in 2009 by Caretaker Caleb Clark, the Butterfly Garden includes more than 35 species of pollinator plants. Annmarie Garden volunteers, including Linda Crandall and Liz Stoffel, have helped Clark transform this weedy patch into a glorious refuge for native plants, insects, and other critters. Not only is the Butterfly Garden enjoyed by guests, it is also used for teaching. For more information visit www.annmariegarden.org
Home Tweet Home, an outdoor exhibit of handmade birdhouses is tucked into small spaces along the Wooded Path and the Loblolly at Annmarie Garden.  It is a quaint collection of twenty-some birdhouses of various shapes, sizes, and materials.  One favorite, Migration Motel, created by Sharon McDonagh of Alexandria, Maryland is an actual globe, serving as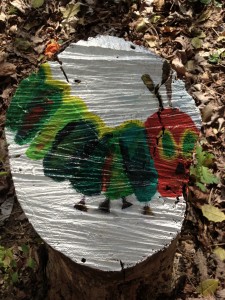 both a bird feeder and a home.   Another creation is the Dowell Elementary School Green Team Condos, made from gourds and individually decorated by students with colorful paint. Other houses include Barbara Boward's Home at Last, a chickadee house encrusted with found objects (old keys, watch parts, and tins). Home Tweet Home comfortably includes a wide variety of artistic expression, from professional artists to youthful enthusiast.  All kinds of artists – and all kinds of birds – can find a home at Annmarie Garden.  Home Tweet Home continues through September 1, 2013 (unless a bird takes up long-term residence).
Tree Pops! Annmarie Garden offers a unique scavenger hunt for snippets of recreated masterpieces hidden within the tree knots throughout the forest. Secure a guide from the Front Desk of the Arts Building and see how many pops you can find!
About Annmarie Sculpture Garden & Arts Center (Annmarie Garden)
An affiliate of the Smithsonian Institution, Annmarie Garden is located in scenic Solomons, Maryland, on the Chesapeake Bay. The sculpture garden features a walking path that meanders through the forest past permanent and loaned sculpture, including more than 30 works of art on loan from the Smithsonian Institution and the National Gallery of Art. Annmarie Garden also presents a variety of award-winning special events, gallery shows, and engaging public art programs. Annmarie Garden's Studio School offers creative classes for all ages and abilities taught by a talented faculty. Annmarie Garden is conveniently located just off Route 2-4, on Dowell Road in Solomons, Maryland; open 9am-5pm daily; the Arts Building and Gift Shop are open 10am-5pm daily. To learn more, visit www.annmariegarden.org.
# # #