Some Pieces Done: Early Lex Park Plan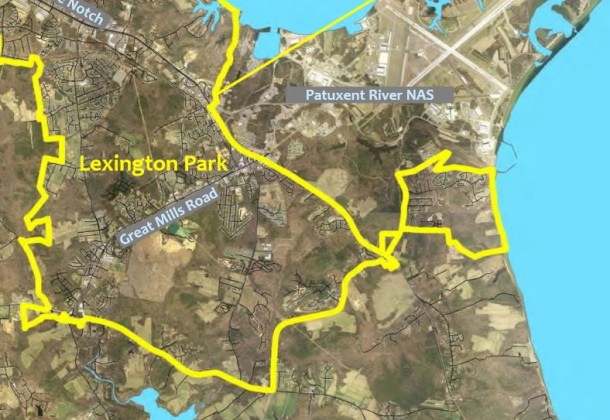 Posted for
Great Mills Trading Post
Leading Edge
While still "waiting for developer participation" to meet many visions found in this Lex Park Plan or another, there are notable accomplishments. County planning officials recited some earlier this month during a progress report on the  latest iteration of a Lexington Park development plan.
Speaking to the Lexington Park Business and Community Association, the director of St. Mary's County Land Use and Growth Management, Phil Shire and Planner Jeffrey Jackman ticked off a number of public backed infrastructure improvements accomplished since redevelopment planning for Lexington Park began in the 1990s.
Specifically cited were the recent completion of FDR Boulevard between Great Mills Road and Willows Road. Also visualized in the 1999 plan were the Bay District Volunteer Fire Department's firehouse and community center and the Lexington Park library. The most recent addition to what has become something of a civic campus along the new FDR Boulevard is the Lexington Park Volunteer Rescue Squad.
(Video below shows a bit of the history of the rescue squad building under construction.)
Improvements to FDR Boulevard across Great Mills Road where it runs along Millison Plaza may also be in the offing. The primary entrance to Nicolet Park as drawn in the early Lexington Park plan was to have been across the street from the movie theater. That entrance is back in the county's budget. The planners said county negotiations with the Millison Plaza property owner, for construction of the entrance, is ongoing.
These community investments help actualize plans on the books since the 1990s, "infrastructure is to invite," Mr. Jackman said, "not to lead." For the manifestation of all that the plans invite into Lexington Park, said Mr. Jackson, "we are waiting for developer participation."
Discussion among the St. Mary's County Planning Commissioners is ongoing concerning the latest master plan update effort. A work session of the St. Mary's County Planning Commissioner dedicated to this Lexington Park plan is scheduled Aug. 4, 3:30-6:30 in the Patuxent Building, Land Use and Growth Management conference coom, 23150 Leonard Hall Drive, Leonardtown, Md. 20650. Public comments are being accepted into October.
For more information, contact Brandy Glenn, Department of Land Use and Growth Management at (301) 475-4200, X-1529 or at
[email protected]
The meeting may be videotaped and aired live and may be rebroadcast on Cable Channel 95. The
schedule for Channel 95