SMECO Shows Support for Habitat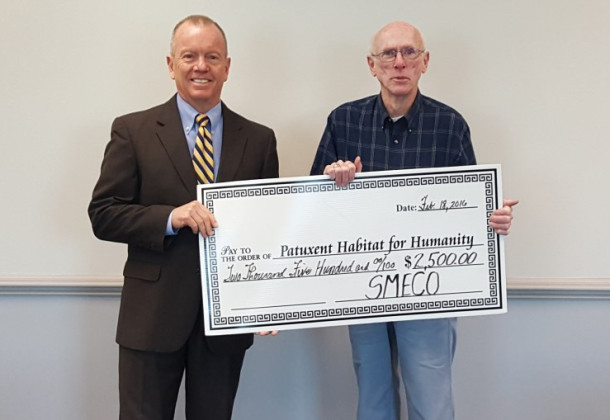 Austin J. Slater, president and chief executive officer of Southern Maryland Electric Cooperative, left, hands off  a check for $2,500to Ted DeVall, board member of Patuxent Habitat for Humanity.
Since 2007, Southern Maryland Electric Cooperative has been a partner of Patuxent Habitat for Humanity, each year donating funds for the nonprofit to create housing options for families in Southern Maryland.
This year, SMECO contributed $2,500 to Patuxent Habitat, becoming a part of every house that PHH builds in Calvert and St. Mary's counties. The electric cooperative also helped PHH incorporate all LED lighting in the nonprofit's new location.
By donating money, volunteering or speaking out to support affordable housing, every resident of Southern Maryland can help families achieve the stability, strength, and self-reliance they need to build better lives.
Patuxent Habitat for Humanity works in Calvert and St. Mary's counties and is an affiliate of Habitat for Humanity International. The organization works to implement affordable housing in the community, allowing residents to be instrumental in the building process of their own homes. For more information about donating and volunteering at the ReStore or with the next home/veteran repair project, visit the website or contact Laurie Walker by email or call 301-863-6227.
Habitat for Humanity International is an ecumenical Christian ministry that welcomes to its work all people dedicated to the cause of eliminating poverty housing. Since its founding in 1976, Habitat has built more than 300,000 houses worldwide, providing simple, decent, and affordable shelter for more than 1.5 million people. For more information, visit their website.
SMECO provides electricity to more than 160,000 homes and businesses in southern Prince George's County, and in Charles County, St. Mary's County, and all but the northeast portion of Calvert County.
Follow SMECO on Facebook and on Twitter. The SMECO 24/7 mobile app is available online.
To learn more about SMECO, please visit their Leader Member Page.