SMECO Raises Funds for Wounded Warriors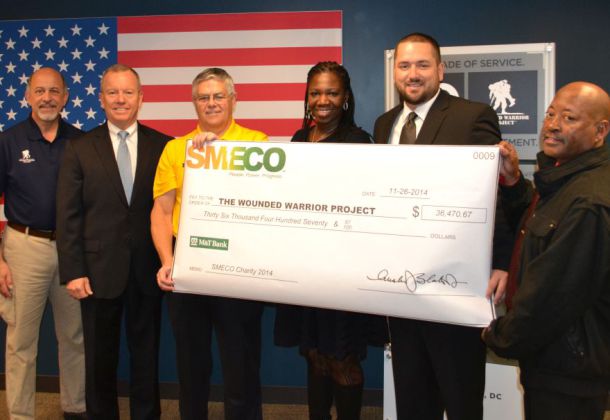 Representatives from Wounded Warrior Project (WWP) accept a contribution of $36,470 from Southern Maryland Electric Cooperative (SMECO). SMECO raised the funds through the SMECO 75 Bike Ride and the SMECO Annual Charity Golf Outing. Pictured from left are John Molino, WWP Chief of Staff -Programs; Austin J. Slater, Jr., SMECO President and CEO; Charlie Abell, WWP, Executive Vice President of Policy and Government Affairs; Natalie Cotton, SMECO Community Relations Specialist; Jonathan Marlowe, SMECO Transmission System Operator and veteran; and Ulysses Bowman, SMECO Lead Groundman and veteran.
  Posted for
SMECO
Southern Maryland Electric Cooperative (SMECO) employees held two fund raising events and recently donated $36,470 to the Wounded Warrior Project. SMECO employees raised the money through the SMECO 75 Bike Ride held in June and SMECO Annual Charity Golf Outing in October. The events are supported by a group of volunteers, vendors, and the SMECO executive team. The Co-op selects a different organization each year to benefit from the fundraising events.
According to Richard Jarboe, SMECO supply chain director, "We enjoy working together with SMECO's supply chain partners to host the charity golf tournament. The event allows us to provide much-needed funds to worthwhile organizations. We have held the charity golf event for 11 years and have given more than $110,000 to local groups."
"We greatly appreciate the contribution SMECO has made to help us serve injured veterans through our 20 life-saving programs," said Dana Dreckman, director of donor services for Wounded Warrior Project. "It is only through the support of the American public and our corporate sponsors that we are able to work toward our vision of fostering the most successful, well-adjusted generation of injured service members in our nation's history."
Natalie Cotton, SMECO's community relations specialist, added, "Our annual bike ride receives great support from the Oxon Hill Bike Club and local bicycle enthusiasts, and we are especially grateful to business partners who donated thousands of dollars to help make the SMECO 75 Bike Ride a successful fundraiser." SMECO held its third annual bike ride on June 7, 2014, and more than 470 bicyclists registered for the event. Participants can choose among three bike routes of 29, 47, and 75 miles that start at the co-op's headquarters in Hughesville and go as far as Colton's Point in St. Mary's County. "Major donors to SMECO's bike ride include CGI, Comverge, ICF International, Infor, IP Data Systems, and NextEra Energy, and we thank them for their contributions," Cotton added. She concluded, "SMECO will host its fourth annual bike ride on Saturday, June 6, 2015, and we've already begun planning for the event."
SMECO is a customer-owned electric cooperative, and we are proud to be a J.D. Power 2014 Customer Champion. We are one of an elite group of 50 U.S. companies to be named to this list.
SMECO provides electricity to more than 156,000 services in southern Prince George's County, and in Charles County, St. Mary's County, and all but the northeast portion of Calvert County. Co-ops are distinctly different from investor-owned utilities because co-ops are owned by their customers, and these members elect the men and women who serve on the Board of Directors.
Co-ops also issue capital credits to their members. What are capital credits? They are the member's share of the co-op's margins, based on how much electricity the member purchased and the rate at which the account was billed. SMECO's margins—revenue less expenses—are used as working capital for new construction and system improvements. When SMECO's Board of Directors determines that a percentage of the capital credits can be distributed to members through a general refund, capital credits will be issued by check or credited to members' electric bills.