Small Business Owners Present Services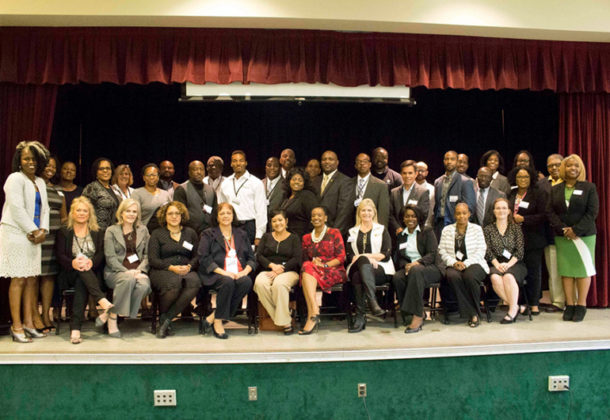 Business Development Accelerator Program clients, Maryland Department of Transportation and the Small Business Development Center team gather at the Oct. 13 event at the Business Service Center in Bowie.
A group of local contracting firms got the chance to present their services to potential public and private clients during a business procurement showcase in October, hosted by College of Southern Maryland's Small Business Development Center, with help from the Maryland Department of Transportation/State Highway Administration. The event was held at the Business Service Center in Bowie.
"Many small businesses tend not to go to general networking events and trade shows because they feel it's a waste of their time. They meet agency representatives that only market the agency," said Ann Frank, SBDC Outreach Coordinator for the State Highway Administration Business Development Accelerator Program. "This showcase allowed decision-making procurement professionals an opportunity to not only hear each client's pitch but to follow up with questions. The clients that were present on that day were exposed to more than a routine networking event."
Through the event, 29 BDAP clients gained access to representatives from private prime contracting companies and government entities. Clients were showcased one-by-one as they shared business services, answered questions and networked for current and future opportunities.
"As a small business program participant, the opportunity to share and showcase our history and capabilities was incredibly valuable — buyers at the conference were interested and ready to engage with us. Really great chance to gain visibility," said Carmen Ortiz Larsen, CEO, AQUAS Inc., a technology engineering and integration business. "I go to many events, but by far this was the best focused and organized event."
"The BDAP Business Procurement Showcase was a great way for small and growing businesses to interact with, learn from, and be introduced to state and federal agencies," said Earl R. Smith III, principal of P&E Engineers. "The opportunity to showcase our services directly to procurement officers from various organizations, all in one place, was priceless. Additionally, the opportunity to network and learn about our fellow small business colleagues, provided possible partnering opportunities which could be huge in the future as we all continue to grow, develop and succeed."
"The BDAP Procurement Showcase was a great event to display our A/E services to our BDAP community and procurement officers," said Sara Thiel of Annapolis Landscape Architects LLC. "Thanks to this event, we are on our way to breaking the barrier with SHA and DGS. We recently were accepted into the 8a Program and are very thankful to BDAP for helping us along the way."
The program is funded by a grant from the Maryland State Highway Administration to foster the economic growth of small, minority and disadvantaged business enterprises in Maryland.
"The CSM and full SBDC network thanks our community of partners that attended the invitation-only event," Ms. Frank said. "We also appreciate the public agencies such as the Federal Bureau of Investigation, US Veterans Administration, Maryland State Highway Administration, US Department of General Services, MGM, Kirlin Builders, BF Joy LLC, and Whiting Turner for their participation."
For information on CSM SBDC-sponsored courses, visit CSM's workforce training website. For information on SBDC services, visit the Maryland SBDC website. For information on the SHA's Business Development Accelerator Program, email Ms. Frank at ann.frank@csmd.edu.
For more about the College of Southern Maryland, visit its Leader member page.