Sidewinder Contract Readied and USAF Gets Back in the Air
Morning Coffee is a robust blend of links to news around the internet

concerning the Naval Air Station Patuxent River economic community. The opinions expressed here do not necessarily reflect those of the Leader's owners of staff.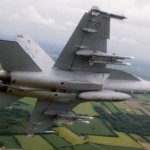 Navy looking to award new longer range Sidewinder contract, the project associated with fitting an infra-red search and track system on the Hornet, reports Aviation Week.
Air Force cuts future investments to get back in the air, reports Breaking Defense.
House leaders seek to limit amendments to 2014 Department of Defense Appropriations Act to move debates about NSA surveillance and aid to Egypt out of the spending bill consideration, reports Intercepts. Rep. Justin Amash, a vocal critic of NSA, seeks to use the spending bill to de-fund surveillance programs, reports The Hill.
Japan's blunt assessment of China's military aims is rebuked by China and S. Korea, making more waves in the China Seas, says DefenseNews.com, which also reports a new app to dumb-down smartphones to prevent leaks from S. Korea's military.
USS Wasp passes aviation certification, awaiting F-35 testing later this summer, reports Aviation Week.
Take a first flight in an F-18, "a very cool plane," video at DEW Line.
NY to LA in 45 minutes? Folks are investing in transportation systems via vacuum tube, reports Wired.
The next generation of machine learning — this means a computer able to create for itself progressive levels of code required to solve a problem — will not merely match but exceed human reach. Speech and facial recognition and vehicle automation will impact every facet of our lives, says FCW.
The Defense Intelligence Agency's February search for a common information network has altered in the wake of the NSA surveillance leaks and DIA is now allowing consideration of desktop and native agency systems that merely "reach out" to access to common services, reports NextGov.
Government is spending more on cloud infrastructure than software infrastructure, reports NextGov, and the trend is expected to continue.
Get the 9-digit ZIP code if you're mailing to a ship, says the NavyTimes.