Seven Students Receive Scholarships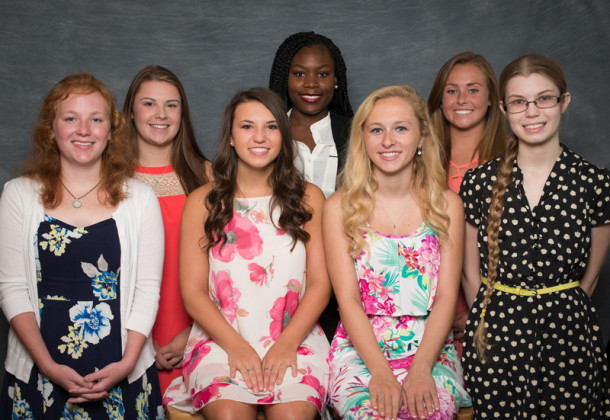 MedStar St. Mary's Hospital 2015 Scholarship winners are, from left, Breanna Chagnon, Cassandra Oliver,  Brittany Carr, Shanice Cooper, Sharon Kerwin, Kasey Long and Madeleine Beaulieu.   Posted for
Medstar St. Mary's Hospital
Seven St. Mary's County high school students have earned scholarships from the St. Mary's Hospital Foundation to help them pursue their education in the healthcare field. A reception July 28 in the Outpatient Pavilion at MedStar St. Mary's Hospital was held to recognize the recipients.
The scholarship recipients, their intended majors and colleges are:
Madeleine Beaulieu of Callaway, Biochemistry/Pharmacy, St. Mary's College of Maryland
Brittany Carr of Mechanicsville, Bachelors of Nursing, Towson University
Breanna Chagnon of Charlotte Hall, Radiology Technician (Associates)
Shanice Cooper of Lexington Park, Bachelors of Nursing, Towson University
Sharon Kerwin of Leonardtown, Bachelors of Nursing, Salisbury University
Kasey Long of Avenue, Bachelors of Nursing, Towson University
Cassandra Oliver of Hollywood, Occupational Therapy, Bachelor of Science/Master of Science, Misericordia University
The St. Mary's Hospital Foundation has been granting scholarships since 2001. This year's scholarships totaled $123,000. Funds are raised through the Foundation's annual Gala held each November. This year's gala will be held Nov. 20 at the Hollywood Volunteer Fire Department's Social Hall. More than 100 students have received funds through the program and many former recipients are currently employees of MedStar St. Mary's Hospital.
"The Foundation is thrilled to be awarding these amazing students scholarships to help begin their healthcare careers," said Cindy Greb, a St. Mary's Hospital Foundation Board Member and Chair of the Foundation's Scholarship Committee. "We believe supporting these students in their careers is not only beneficial to them, but also to our community."
St. Mary's Hospital Foundation was formed in 1975 and serves as the hospital's philanthropic arm. The Foundation works to generate, administer and manage gifts, grants, bequests and trusts to further enhance MSMH's excellence as a provider of comprehensive health care services, quality medical care and clinical research. The Foundation is governed by a volunteer board of trustees with elected officers comprised of a cross-section of area businesses, community and medical leadership.
"We are excited to watch these young people grow during their college years and look forward to welcoming them back to the community after they graduate," said Ms. Greb.