Sequestration Taking Its Toll on Readiness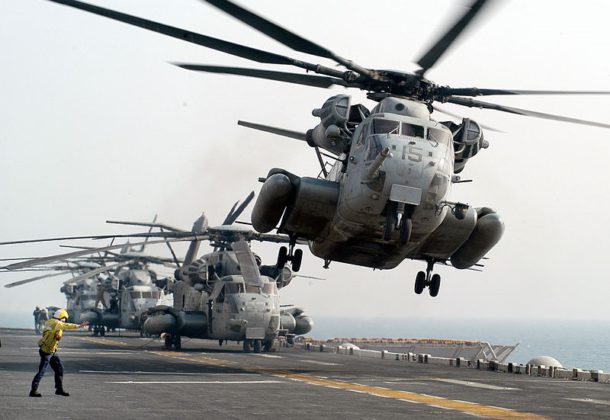 Morning Coffee is a robust blend of links to news around the Internet concerning the Naval Air Station Patuxent River

economic community. The opinions expressed here do not reflect opinions of the Leader's owners or staff.
Sequestration is taking its toll on Marine aviators' safety, The San Diego Union-Tribune reports. Pilots are not being given enough flight time to safely perform their duties, creating unnecessary and deadly risk for pilots and their crews, as evidence by two deadly crashes late last year in Southern California and Hawaii, the paper reports.
President Obama, speaking at a farewell ceremony in Virginia, said the "reckless budget cuts of sequestration" have hurt military readiness, The Washington Examiner reports. "We cannot go back to sequestration," Obama said, calling on Congress to end the mandatory across-the-board budget cuts.
Daniel Coats, a former Indiana senator, is President-elect Donald's Trump's choice to lead the Office of the Director of National Intelligence, Military Times reports.
The Hill reports that a power struggle has begun between Trump transition team members, namely James Mattis, DefSec choice, and Michael Flynn, Trump's choice for national security adviser.
With less than two weeks to go before his inauguration, the president-elect has yet to name anyone to lead the Department of Veterans Affairs, Military Times reports. A few other posts remain unfilled, too.
Federal workers are bracing for reductions in head counts, civil service protections, and salaries when Trump and Congress turn attention to government spending later this year, The Baltimore Sun reports.
Breaking Defense pulled out it crystal ball to make a prediction that the new administration will turn much of its attention on the US Air Force. Deborah Lee James, the outgoing AF secretary, said Trump's recent comments about the F-35 Joint Strike Fighter program "signals to me that the president-elect is going to be focusing on the taxpayer dollar, on efficiencies."
An opinion piece in National Review calls for the president-elect to cancel the F-35 program. "The F-35 program showcases all that is wrong about our military's vendor-dominated, capitalist procurement system," the article states.
There's a whole lotta shakin' going on in New Jersey. There was another report of widespread shaking in South Jersey earlier this month, nj.com reports. And like the shaking reported in December, officials say the sonic boom occurred when an F-35 Joint Strike Fighter from NAS Patuxent River went supersonic for an exercise around 3 pm Jan. 4 off the Jersey coast.
Upgrades to software designs for the MQ-8 Fire Scout unmanned air system are underway, Defense Systems reports. The effort includes software design and system integration, qualification testing, cyber security activities, and engineering services.
Vanilla Aircraft LLC reports that its VA001 unmanned aircraft system completed a non-stop, unrefueled 56-hour flight. The Dec. 2 flight, sUAS News reports, has been submitted for a world duration record for combustion-powered unmanned aerial vehicles in the 50-500 kg subclass.
Unemployment among the newest generation of veterans fell slightly in December after a sharp spike upward in the month before, Military Times reports.
Contracts:
BAE Systems Norfolk Ship Repair, Norfolk, Virginia, is being awarded a $75,154,288 firm-fixed-price contract for the execution of USS San Antonio (LPD 17) fiscal 2017 docking phased maintenance availability (DMPA). This availability will include a combination of maintenance, modernization, and repair of USS San Antonio.  This is a long-term availability and was completed on coast-wide (East and Gulf) basis without limiting the place of performance to the vessel's homeport. BAE will provide the facilities and human resources capable of completing, coordinating, and integrating multiple areas of ship maintenance, repair, and modernization. This contract includes options which, if exercised, would bring the cumulative value of this contract to $79,407,461. Work will be performed in Norfolk, Virginia, and is expected to be completed by April 2018. Fiscal 2017 operations and maintenance (Navy); and other procurement (Navy) funding in the amount of $75,154,288 will be obligated at time of award.  Contract funds in the amount of $73,627,370 will expire at the end of the current fiscal year. This contract was competitively procured using full and open competition via the Federal Business Opportunities website, with two offers received. The Naval Sea Systems Command, Washington, District of Columbia, is the contracting activity (N00024-17-C-4409).
Wyle Laboratories, Huntsville, Alabama (W91C9G-17-D-0001); American Systems Corp., Chantilly, Virginia (W91C9G-17-D-0002); Bevilacqua Research Corp., Huntsville, Alabama (W91C9G-17-D-0003); and Scientific Research Corp., Atlanta, Georgia (W91C9G-17-D-0004), will share a $51,711,700 cost-plus-fixed-fee contract for joint test and evaluation engineering services.  Bids were solicited via the Internet with four received. Work locations and funding will be determined with each order, with an estimated completion date of July 7, 2018.  Army Corps of Engineers, Vicksburg, Mississippi, is the contracting activity.