Science & Engineering Winners Explain their Projects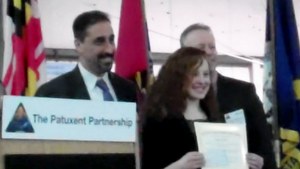 Posted for The Patuxent Partnership Pax II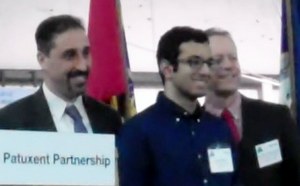 Abbreviated debriefings by winning scientists and engineers led to a conclusion perhaps less scientifically provable than those from their experiments on display at last week's future scientists' awards reception. But the conclusion was still obvious: It takes a village to produce a scientist.
That was the message repeated to the winners at The Patuxent Partnership and International Council of Scientists and Engineers reception, and to their parents, teachers and Pax River mentors in the audience. The collaboration of The Partnership, the International Council on Systems Engineering (INCOSE), and the public and private schools in St. Mary's County continues to increase opportunities for students to experiment and gain mentoring in STEM-related activities.
Pax Partnership Executive Director Bonnie Green echoed the superintendent of the county schools, Michael Martirano, in praising the collaboration that produced this year's, and every year's winners.
The video is a smattering of the debriefings by a few of the St. Mary's County Science Fair winners who went on to win additional awards from The Patuxent Partnership, INCOSE, and various association in Southern Maryland. In the video are Michael Lopez describing his "Rain Power" experiment, Varun Kataria explaining "The Dawn of Power," Alex Motamed explaining "Harnessing the Power of Waves," and   Olivia Sowa describing "Fright Light."
The full list of TPP & ICOSE winners and their awards appear below the video.
[youtube=http://www.youtube.com/watch?v=IMQEmJvGthQ]
2014 St. Mary's County Science & Engineering Fair Winners
Junior Division
Natalie Wolfe
, "Piezoelectric Shoes: A Power Plant in Motion," INCOSE 1st Place; TPP Junior Electrical/Electronics Project Award; Engineering: Electrical & Mechanical 3rd; SWE Promising Engineer Junior 1st; SoMD Audubon Society Junior 1st
Alex Motamed
, "Harnessing the Power of Waves," INCOSE 2nd Place; Engineering:Electrical & Mechanical 1st; Junior Best Use of Inexpensive Materials; Discovery Education Young Scientist Challenge Award
Olivia Sowa
, "Fright Light," INCOSE Award; TPP Junior Physical/Life-Science Project Award; Physics and Astronomy 2nd; Senior Best Presentation; Sparkle Award
Daniel McLawhorn
, "Direction vs. Direction Time vs Time," TPP Junior Environmental/Biological Project Award; Energy and Transportation 1st; Discovery Education Young Scientist Challenge Award
Gerig Thoman
, "Speedy SUV," TPP Junior Aeronautics/Aerospace Project Award; Energy and Transportation 3rd
Senior Division
Mina Fahmi
, "Development of a Teleoperation Robot," INCOSE 1st; Engineering: Electrical & Mechanical 1st; Wyle Senior 1st Outstanding Aerospace Award
Michael Lopez
, "Rain Power," INCOSE 2nd; Energy and Transportation 1st; SoMD Assoc. of Realtors Scholarship Senior Grand Award
Annie Imhof
, "The Perfect Pantry," INCOSE Award; Computer Science 2nd; SWE Creative Engineer Senior 2nd
Sarita Lee
, "Toxic Perfumes," TPP Senior Physical/Life-Science Project Award; Chemistry 1st; Senior Best Correlation of Data; MedStar Senior Award Chemistry
Jonathan Yu
, "Electro-magnetic Levitation – Secrets Unraveled," TPP Senior Electrical/Electronics Project Award; Engineering: Materials & Bioengineering 1st
Robert Vandegrift
, "The Hohmann Shuffle," TPP Senior Aeronautics/Aerospace Project Award; Mathematical Sciences 1st
Varum Kataria
, "The Dawn of Power," TPP Senior Environmental/Biological Project Award; Energy and Transportation 2nd
The Patuxent Partnership & its STEM initiatives sponsored by: