Save the Date for Hoyer's Bull Roast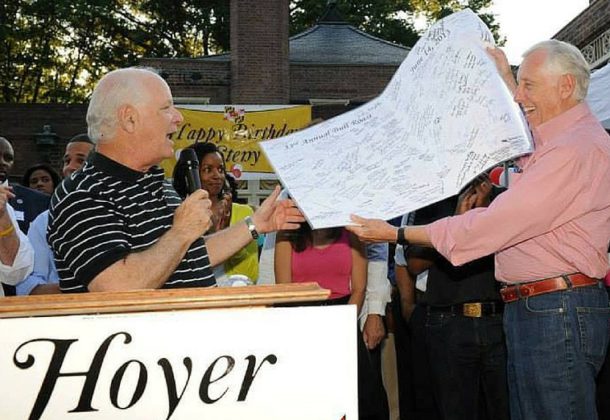 Save the date for Congressman Steny H. Hoyer's annual Bull Roast and Birthday Party, scheduled for Friday, June 2, 2017, from 6 to 8 pm.
The event will be held rain or shine at the Newton White Mansion at 2708 Enterprise Road in Mitchellville, Maryland.
Enjoy country barbecue and ice cream sundaes.
Tickets are $15 for young professionals and students or $50 for five tickets, $20 for seniors, $35 for individuals, $250 for sponsors, $500 for patrons, and $1,000 for hosts.
E-mail reservations to bullroast@hoyerforcongress.com. Connect with Congressman Hoyer (D-Md., 5th) by following@StenyHoyer on Twitter and liking his Facebook page.
In Congress, Rep. Hoyer has built an outstanding record of achievement and earned a reputation as a strong leader, a skilled legislator, and a committed consensus builder. For example, a profile of Congressman Hoyer in the magazine National Journal stated: "Congressional insiders roundly agree that [Steny Hoyer] is a workhorse with the ability to focus on getting a job done that is unmatched by many lawmakers."
He gained wide acclaim for guiding the Help America Vote Act to House passage and producing a House-Senate Conference Report that was signed into law by President Bush on Oct. 29, 2002. Washington Post columnist David Broder called this comprehensive election reform legislation "the most significant piece of election law since [the] Voting Rights Act."
Congressman Hoyer also shepherded the Americans With Disabilities Act to overwhelming approval in the House in 1990, and it was signed into law by President George H.W. Bush. This landmark civil rights legislation has helped millions of disabled Americans enter the workforce, achieve independence and go as far as their talents take them.
In addition, Congressman Hoyer guided the Federal Employee Pay Comparability Act to House passage. It was signed into law in November 1990. FEPCA was a major effort to restructure the pay system for Federal employees, and attempts to ensure fairness in pay and comparability to similar work outside the Federal government.
Congressman Hoyer aggressively advocates for his Fifth District constituents and also is a respected voice on national and international issues.
For more information about House Democratic Whip Steny H. Hoyer, visit his Leader Page.