Sabre Awards STEM Scholarship to Amanda Carroll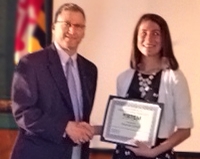 Posted by
Sabre Systems, Inc.
Pax Leader
Warrington, Pa. – Sabre Systems, Inc., a professional information technology (IT) and engineering services company announced last week the awarding to St. Mary's Ryken High School senior,  Amanda Carroll of Prince Frederick, Md., a $1,000 college scholarship to Virginia Tech in recognition of her outstanding STEM (Science, Technology, Engineering and Mathematics) accomplishments.
Ms. Carroll was presented with her award on Thursday, May 16, 2013, at the St. Mary's Ryken awards ceremony by Sabre Senior Executive Business Director Phil Farrell. The Mid-Atlantic (MA) received more than 60 STEM Scholarship applications. Ms. Carroll's essay stood out, according to Glen Ives, Group Vice President of the MA Region. "I knew [Amanda's] motivation and attitude matched those of our Sabre team, and I was excited to help provide her an opportunity to continue to do big things."
The Sabre STEM scholarship program was launched earlier in 2013 to help steer students into the science, technology, engineering, and math curriculum by helping reduce the financial barriers to attend college.  Sabre will award a total of six $1,000 non-renewable scholarships to deserving students in locations where the company has a major presence.
Sabre Systems, Inc. is a mid-sized, global solutions provider that offers engineering, software development, information technology, statistical programs, logistics, and program management support to U.S. defense and civilian agencies, and commercial clients.  Founded in 1989, the company's headquarters are located in Warrington, Pa. Offices are maintained in Virginia, Maryland, New Jersey, and Indiana.
Sabre is Capability Maturity Model Integration (CMMI) ® Maturity Level 3 (ML3) rated by the Carnegie Mellon Software Engineering Institute and ISO 9001:2008 certified.  For more information, visit www.sabresystems.com.
# # # # #