Ruble Gets Accolades from Under Armour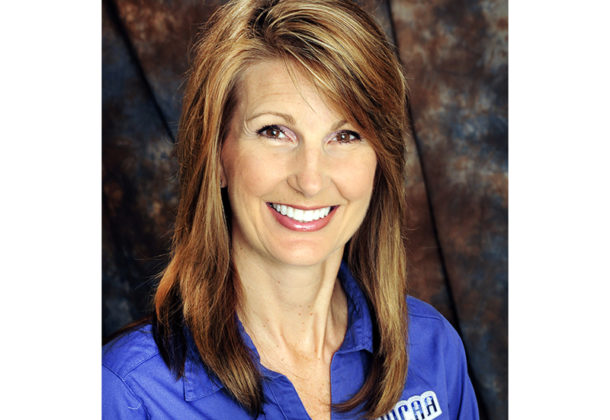 Michelle Ruble is the student life and athletics executive director at the College of Southern Maryland. Credited with much of the recent success of CSM's athletics programs, the Cobb Island resident has been named Under Armour Athletic Director of the Year for Junior and Community Colleges for 2017-18.
Ms. Ruble will be awarded during the National Association of Collegiate Directors of Athletics Conference in June in Washington, DC. This won't be the first time she has earned the distinction — she first received the title in 2013-14.
This time around, Ms. Ruble was nominated for the Under Armour award by Tim Drain, assistant vice president for athletics and student life at Tyler Junior College in Tyler, Texas, the previous winner of the award.
"To be nominated by someone in our field that I highly respect, consider a mentor, and who runs one of the best athletic departments in the country is an honor all by itself," Ms. Ruble said. "To have my peers support the nomination by voting for me is unbelievably humbling."
Mr. Drain said he knows Ms. Ruble from dealing with the National Junior College Athletic Association and National Association of Two Year College Athletic Administrators. "She is a leader in both organizations, serving as the 2nd vice president in NATYCAA and as the 2nd vice president for Women in the NJCAA," Mr. Drain said in his nomination. "She is truly one of the top leaders in the country regardless of division.
"Michelle is a leader in every sense of the word," Mr. Drain continued. "Her work nationally … has given tremendous exposure to the College of Southern Maryland and [CSM's] athletic program. Her captain roundtable meetings give her athletes a voice in her athletic department. Her desire to improve professionally is only matched by her desire to improve her department and its facilities, and many of her venues have had upgrades in the last few years. She resurrected the school's athletic hall of fame, which made many of her alumni extremely pleased. And finally, her students succeed on and off the playing arena, which is a reflection of her leadership and values."
In her role with the NJCAA, Ms. Ruble sees a number of challenges that normally face athletic directors at community colleges. "From my experience and talking with folks around the country some of the biggest and most universal challenges are declining resources, declining participation of female student athletes and hiring and retaining great coaches who are part-time employees, but who fill the role of a full-time employee," Ms. Ruble said.
As she deals with these challenges, she has led countrywide conversations about these issues. "I am fortunate enough to serve on the boards of two national athletic leadership organizations and the networking and information sharing has be one of the best experiences for me," she said. "Bringing ideas back to CSM has been extremely valuable and has assisted with better customer service to our athletes and our coaching staff. I do my best to be the bridge between CSM and our coaches, to help support them and empower them to be the best at what they do. In turn, our athletes are better served, feel supported, and ultimately are more successful in the classroom and on the field or court."
The heart of Ms. Ruble's work is her belief that college athletics add value on and off the playing field, both for the college and the athlete. Athletes learn about leadership, time management, persistence, goal-setting, communication, and managing failure as well as success. For the college, athletics programs bring students to campus who may not have attended college otherwise and helps with marketing and branding as well.
Ms. Ruble was herself a student athlete at the collegiate level, and was first hired as CSM's head volleyball coach in 1991. She took the job as the college's athletic director in 2001 and was named CSM's director of student life and athletics in 2007.
When she played volleyball at Elon University in North Carolina, Ms. Ruble was a three-year captain and an Academic All-American. She earned her bachelor's degree in public and business administration from Elon and her master's degree from the College of Notre Dame of Maryland (now Notre Dame of Maryland University).
Ms. Ruble is on the NJCAA Executive Committee, is the NJCAA Finance and Budget co-chair, and on the championship events committee. She has served on the National Association of Collegiate Directors of Athletics Executive Committee since 2017.
The Under Armour honor is not Ms. Ruble's only accolades. She was twice awarded the Maryland JUCO Conference Sportsmanship of the Year Award and is a recipient of the Maryland JUCO Conference Athletic Director of the Year.
For information on CSM athletics, visit CSM's athletics website.
For more about the College of Southern Maryland, visit its Leader member page.