Register for Art Classes at Annmarie Gardens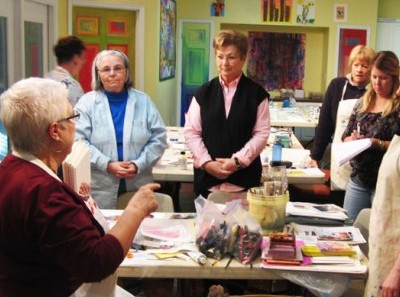 Posted by
Annmarie Sculpture Garden and Art Center
Community Builder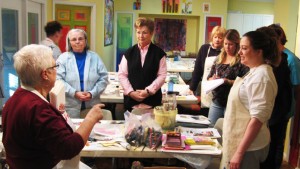 This Month at Annmarie Gardens:
Brilliant Blooms: A Watercolor Workshop, a two class series taught by Mary Blumberg on June 22, 2013, 10:00 am – 3:30pm. Learn to paint "rhodies"- the beautiful blossoms of rhododendrons that are a dominant eye-pleaser in Maryland springtime landscapes. Color, light, shadow and and high contrast will be discussed to develop perfect petals in your paintings. Join us, some experience with watercolors preferred. Cost is $100 for non-members; $95 for members.
Sea Glass Jewelry Class, taught by Liz Printz, June 23, 2013, 1:00 pm – 3:00 pm. Create a beautiful pendant and matching earrings with sea glass found on local southern Maryland beaches. Students will learn quick, easy assembly techniques to incorporate sea glass and beachy found objects into fun, creative jewelry. Cost is $30 for non-members; $25 for members; advanced registration required.
Introduction to Stained Glass taught by Leza Hepler, on June 22, 2013, 10:00 am – 2:00pm. Learn the fundamentals behind stained glass art as we explore the copper foil technique. Learn to cut, shape and grind glass, foiling and soldering techniques, to make a small sun-catcher for your window. Cost is $45 for non-members; $40 for members.
artLAB Walking Sticks, taught by Barbara Boward and Susan Fletcher, on June 30, 2013, 10:00 am – 1:00pm. Join us for a morning of creativity and imagination as you make your own Walking Stick or Talking Stick using a historic southern Maryland tobacco stick. Use found and re-purposed objects, or items that have special meaning to you – stones, beads, fossils, buttons, vintage jewelry, small pictures or other mementos to design and create a practical and beautiful treasure. Class includes ideas on decorating and personalizing, wire wrapping, and beading. Tobacco sticks, beads, shells, a variety of found objects, wire, and adhesive provided. Cost is $40 for non-members; $35 for members; advanced registration required.
Visit www.annmariegarden.org or call 410-326-4640 to register.