Recruiting Wounded Vets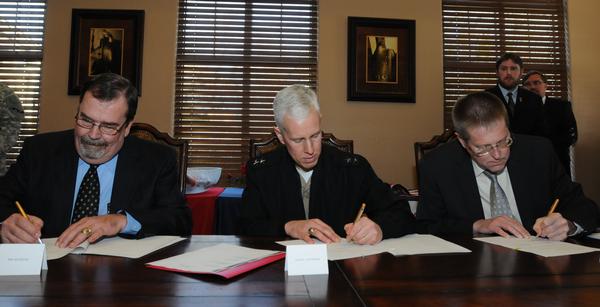 NAVAIR signed a memorandum of understanding with other Army and Navy leaders at Fort Sam Houston Jan. 18 to serve as the lead sponsor in helping wounded warriors transition from the military to the civilian workplace.
According to the memorandum, this joint effort will help recruit and train wounded warriors transitioning out of the Army Support Activity at Fort Sam and surrounding San Antonio medical treatment facilities. Specifically, during quarterly onsite visits, as well as via phone and email, NAVAIR and the Navy's Office of Civilian Human Resources (OCHR) representatives will help veterans build their resumes and match them with job openings.
"Employing wounded warriors is one of our highest priorities at NAVAIR," said NAVAIR Vice Commander Rear Adm. Steven Eastburg. "You have our unwavering commitment that we will provide the support you need and deserve when you leave this facility, leave the military, look for a career and enter the civilian workforce."
This first-ever memorandum signing between Eastburg, Manager Frank Blakely, Fort Sam Houston Army Support Activity, and OCHR Director Douglas Lundberg cemented the DoN's commitment to recruit more wounded warriors. As a top-level Navy initiative, the plan is to include more commands and industry partners in the future. The two-day event also included tours of the Warrior Family Support Center, Soldier and Family Assistance Center, and Center for the Intrepid.
"This is not the end of our business, but it's really the very beginning of what hopefully will be a very long and enduring relationship," Eastburg said.
NAVAIR's relationship with Brooke Army Medical Center (BAMC), located at Fort Sam, began in November 2011. The command hosted its first Wounded Warrior Career Day Dec. 6, 2011, which included a dinner and meet-and-greet with disabled veterans from BAMC.
"It is our honor to help the corps of men and women who have served our country so honorably and who are now ready for their next great challenge," Eastburg said. "Because at the end of the day, it doesn't matter who does the hiring. What matters is that you're matched with meaningful and challenging employment."
NAVAIR's new wounded warrior program manager, Capt. Jim Litsch, agreed. "The BAMC facilities to support our wounded warriors are quite impressive, as well as the support staff and service members I have met during my visit," he said. "I am looking forward to working with our wounded warriors and helping them find careers at NAVAIR, other commands in the Department of the Navy or in the commercial sector."
In fiscal year 2011, NAVAIR hired 586 veterans, 155 of whom were at least 30 percent disabled.
NAVAIR also works with NAVSEA, SPAWAR and the Director, Naval Acquisition Career Management, as well as private sector organizations, to maximize wounded warrior employment, training and transitioning opportunities nationwide.
For more information on NAVAIR's Wounded Warrior Program, visit http://jobs.navair.navy.mil or email [email protected].
Source: NAVAIR Headquarters