Rebuilt Military Includes Coast Guard, Say House Members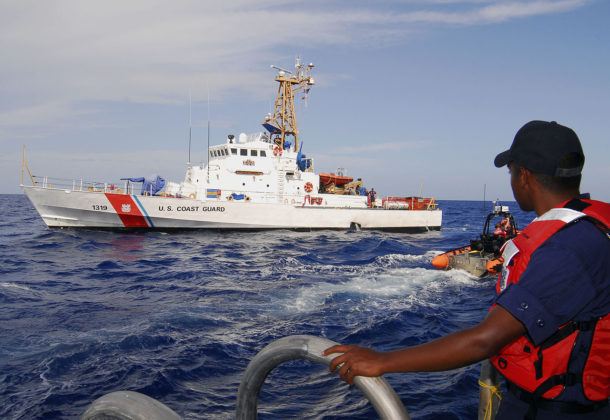 Morning Coffee is a robust blend of links to news around the Internet concerning the Naval Air Station Patuxent River

economic community. The opinions expressed here do not reflect opinions of the Leader's owners or staff.
A bipartisan group of House members protest White House plans to slash the Coast Guard budget by $1.3 billion arguing that the Coast Guard must be included in President Donald Trump's plans to rebuild the military, reports Defense News.
Months ago an intense internal feud in one of the main military groups sharing explicit imagery of female co-workers. One member, says Military Times, appalled by content celebrating "revenge porn" and "talk about rape," claimed credit for getting the group removed from Facebook. There is also evidence the group's administrators ignored warnings and reassured participants that photo swapping and disparaging commentary would not be censored.
Japan will dispatch its largest show of naval force since WWII to the South China Sea where China's growing military presence fuels concern in Japan and the West, and prompts the US to hold regular air and naval patrols to ensure freedom of navigation.
China plans to increase the size of its marine corps to 100,000 from about 20,000 to protect the nation's maritime lifelines and growing interests overseas, reports South China Morning News.
US interpreters abandoned on Europe's border, The Guardian provides video.
Jeff Bezos' Blue Origin factory plans to begin flying a partially reusable orbital launch vehicle and put a large robotic lander on the moon by 2020, Aviation Week reports and suggests the Trump administration could provide the NASA connection Bezos needs.
The US military's "reassurance and deterrence" mission is preventing key American allies from battling one another in the tense Syrian city of Manbij. The Military Times reports  the arrival of Russian troops and continued advances by Turkish-backed rebels could complicate the mission. Fewer than 100 elite Army Rangers are in Manbij to keep the peace between Syrian Kurdish forces and those loyal to Turkey.
The Virginia-class submarine building program, long a model US Navy construction effort, just missed its contract delivery date, reports Defense News.
The Navy Times reports that Dr. Mary Ann Cummings has won the 2016 Naval Sea Systems Scientist of the Year award for innovating and patenting a software called Orchestrated Simulation through Modeling.
New "Fat Leonard" indictments charge an admiral and eight others with corruption and other crimes, reports The Washington Post. The escalating scandal has Navy personnel accused of taking bribes in the form of lavish gifts, prostitutes, and luxury hotel stays courtesy of Leonard Glenn Francis, a Singapore-based defense contractor who has already pleaded guilty to defrauding the Navy of tens of millions of dollars.
Gov. Larry Hogan's administration signals possible crab shift policy, reports the Baltimore Sun. DNR Secretary Mark Belton described a "customer service" oriented approach to crab management at a special hearing on the dismissal of Brenda Davis, who gathered data used to recommendation rules that limit blue crab harvests by watermen.
Contracts:
Gilbane Federal Services, Concord, California  (N62473-17-D-0005); CB&I Federal Services LLC, Alexandria, Virginia (N62473-17-D-0006); AECOM-Energy Solutions JV, San Diego, California (N62473-17-D-0007); Tetra Tech EC Inc., San Diego, California (N62473-17-D-0008); AMEC FW Environmental & Infrastructure Inc., San Diego, California (N62473-17-D-0009); and ECC Insight Philotechnics LLC, Burlingame, California (N62473-17-D-0011), are each being awarded a firm-fixed-price, indefinite-delivery/indefinite-quantity multiple award contract for remediation services of radiological contaminants at various Navy and Marine Corps installations within the Naval Facilities Engineering Command Southwest and Naval Facilities Engineering Command Atlantic areas of responsibility. The maximum dollar value including the base period and four option years for all six contracts combined is $240,000,000.  Services include, but are not limited to, radiological investigations, surveys, and remediation, along with preparing work documents and reports in support of Navy environmental programs.  Such radiological work will generally support environmental investigations with particular focus on possible radioactive contamination; implementing recommendations of historical radiological assessments, remedial actions; removal actions; remedial design; expedited and emergency response actions; pilot and treatability studies; remedial action systems operation and maintenance; and other related activities associated with returning sites to safe and acceptable levels of contamination, to achieve appropriate decontamination and decommissioning requirements.  Radiological actions may include, but will not be limited to, preparation of work documents, performance of surveys, investigations, remediation, implementation of radiological controls, storage and handling of waste materials, performance of on-site radiological survey and sampling analysis, and include all associated reporting requirements. Gilbane Federal Services is being awarded task order 0001 at $1,499,390 for Parcel C Building 253 and 211 radiological remediation at Hunters Point Shipyard, San Francisco, California.  Work for this task order is expected to be completed by March 2019. All work on this contract will be performed in California (80 percent); Arizona (5 percent); Nevada (5 percent); Colorado (4 percent); New Mexico (2 percent); Utah (2 percent); and other locations nationwide as deemed necessary to meet workload requirements (2 percent).  The term of the contract is not to exceed 60 months, with an expected completion date of March 2022. Fiscal 2017 base realignment and closure (BRAC); and fiscal 2017 operations and maintenance (Navy) contract funds in the amount of $1,524,390 are obligated on this award, of which $25,000 will expire at the end of the current fiscal year. Future task orders will be primarily funded by operation and maintenance (Navy and Marine Corps); and BRAC. This contract was competitively procured via the Navy Electronic Commerce Online website, with eight proposals received.  These six contractors may compete for task orders under the terms and conditions of the awarded contract.  The Naval Facilities Engineering Command Southwest, San Diego, California, is the contracting activity.