PRMI's Chuck Dohrman Adds Another $125K to Fight SIDS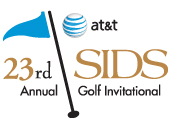 Posted by
Primary Residential Mortgage Inc.
Pax Leader  
The 23rd Annual SIDS Golf Invitational, held a few weeks ago at Turf Valley Resort in Ellicott City, Maryland, was founded in 1991 by Chuck and Terre Dohrman in memory of their son, Zachary Lutz Dohrman, who died in 1991 of SIDS.
With the help of many dedicated friends and family members, the Dohrmans worked tirelessly to develop a golf tournament that raises financial support for the Center for Infant & Child Loss and SIDS-related research. Now in its 23rd year, this event has raised over $2.5 million for the Center and is known as one of the best tournaments in the metropolitan area.
Final totals put this year's net earnings at $125,356, up from 2012's $85,000. This success includes the tournament welcoming many new corporate sponsors into the fold, including PRIMARY RESIDENTIAL MORTGAGE.
The tournament  draws more than 250 golfers to the renowned fairways of Turf Valley golf courses. Despite this year's rain, which put a damper on the golf portion, the Invitational's evening festivities, including live and silent auctions, proved a great success.
"And even though the golf was cancelled," Mr. Dohrman said, "we still were able to present a winner. Congratulations go to Dean Johnson for winning the putting contest."
Through the efforts of dedicated parents, volunteers, and supporters, this event continues to grow and serve as the essential element in the fund-raising efforts at the Center for Infant & Child Loss.

 facebook.com/CenterforInfantandChildLoss