PRMI Trick or Treats at Annmarie Gardens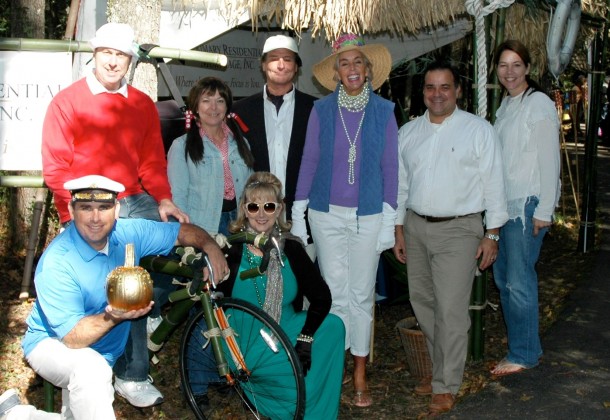 Posted by
Primary Residential Mortgage Inc.
Pax Leader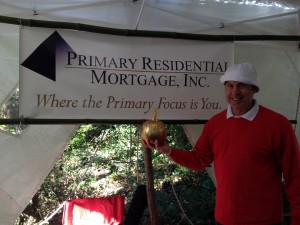 The crew at Primary Residential Mortgage continues their commitment to serving the community by supporting Annmarie Gardens'  14th Annual Halloween in the Garden.
PRMI was among 80 companies with a booth at the annual event which supports the Holiday Food Basket Program, the Annmarie Scholarship Fund and a St. Mary's County charity named by the Ann's Circle Board of Directors.
Primary Residential Mortgage decorated their booth in the theme of Gilligan's Island. Barry Friedman, known as "The Skipper" for the day, explained, "We had a bamboo hut with a thatched roof and even a bamboo bicycle built by 'The Professor', Mike Lorenzini." The bicycle was peddled by PRMI's crew of castaways to "energize" their music, which consisted of a loop of various versions of the Gilligan's Island television show's theme song.
Attendance was estimated at 3,000 children with more than another 2,000 parents. Although the young trick or treaters might not be familiar with the 1960s sitcom, their parents were, said Mr. Friedman. "It seemed that most have fond memories of the sitcom as many broke out in song with great enthusiasm as they passed by."
The judges were impressed as well, awarding Primary Residential Mortgage's inaugural participation with the coveted Golden Pumpkin award  for the best booth.
Mr. Friedman conducted an unscientific poll to determine everyone's favorite castaway and although "Gilligan" was quite a popular character, he found that "Ginger" and "Maryanne" each had very passionate fans.
And on the island? Chuck Dohrman was a natural Gilligan. Tabatha Griffin was the glamorous Ginger the Movie Star. The Professor was Mike Lorenzini. Keith and Robbie Loker  were the sophisticated Millionaire and his wife. Grace-Anne Dohrman was Mary Ann,  the girl next door complete with pigtails.