Presidential Scholar Finds Leadership Opportunities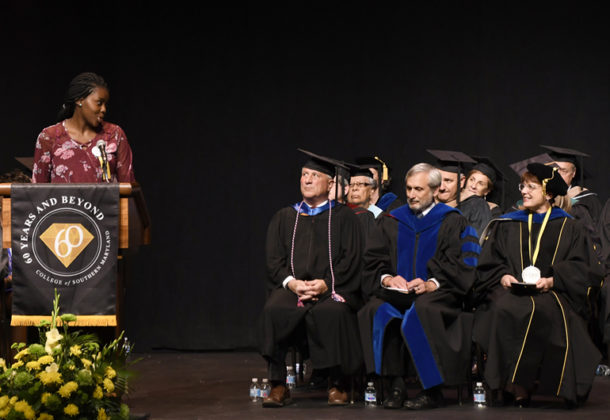 When she was about to graduate Patuxent High School, Oluwaseyi Kintunde had no plans to become a Presidential Scholar or attend College of Southern Maryland. Her plan was to leave the area for a four-year school and play on the university's volleyball team. However, a fall at the Senior Night volleyball game changed her plans.
"I had an ankle injury and had to stay in the county because of the surgeries," Ms. Kintunde said. The serious injuries included torn ligaments, which keep her off the court even two years later. "I'm still healing."
Even after that setback, the Lusby resident has found success at CSM. She graduated May 24, 2018, earning her associate's degree of applied science in technology.
While at CSM, the 20-year-old found a number of ways to learn beyond the classroom. She was employed in the advising center at the Prince Frederick Campus, and students elected her president of the campus' Student Association. Because of that involvement, Ms. Kintunde said she had a much richer college experience.
"Being in the clubs helped me make new friends, so I wasn't just going to school in the morning and leaving at night," she said. She also made friends at the other campuses and got a feel for others' experiences at the college. The extra involvement gave Ms. Kintunde the opportunity to learn major life skills.
"Being part of the clubs helped me realize the importance of not only leadership, but also being able to follow and listen to other people," she said.
Ms. Kintunde's next move is to the University of Maryland, Baltimore County, where she will be studying pre-med and plans to become an anesthesiologist. While at CSM, she was named a Presidential Scholar, an elite program for high-achieving Calvert County students. The program pays for 25 percent of freshman year tuition and 50 percent in the sophomore year.
As she gets ready for UMBC, Ms. Kintunde hopes to continue to benefit from the life lessons she learned at CSM. "I want to be more social, which will be more challenging because of the bigger campus, but that's fine by me," she said. "I want to get to know my professors on a good level, and I hope to find that camaraderie with them."
CSM Presidential Scholars Program
Applicants to the CSM Presidential Scholars Program must be residents of Calvert County, ranked in the top 15 percent of their graduating high school class, take the majority of their classes on the Prince Frederick Campus, have shown college readiness through a certain level of SAT or ACT scores, file a FAFSA and be full-time CSM students.
Students apply by filling out an online application, submitting high school transcripts and SAT or ACT scores, writing a one-page essay and submitting a letter of recommendation from a teacher or counselor.
Scholarship support for the Presidential Scholars Program is provided by the Florence B. Trueman Scholarship Fund of Calvert County. At this time, the program is only available at CSM's Prince Frederick Campus.
For a full listing of guaranteed transfer agreements for Presidential Scholars to more than 50 partnering universities, visit CSM's transfer site. For more about the program, visit CSM online.
For more about the College of Southern Maryland, visit its Leader member page.