Pentagon to Examine JSF Costs, Pessimistic about Budget Fix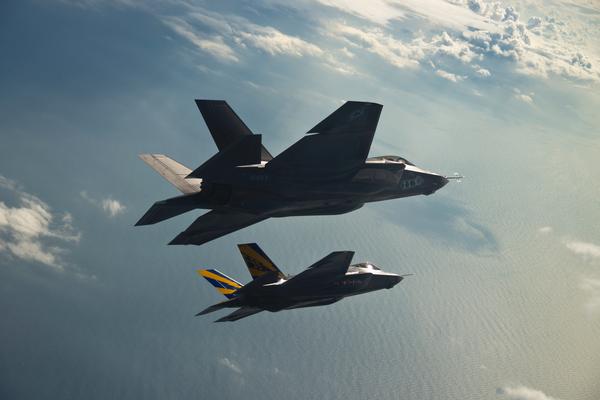 Morning Coffee is a robust blend of links to news around the internet concerning the Naval Air Station Patuxent River economic community. The opinions expressed here do not necessarily reflect those of the Leader's owners or staff.

DoD to review the cost of the $392 billion F-35 fighter jet program; examination will also update  lingering tech issues, reports Aviation Week.
Call them Supercommittee Light; Intercepts reports on the bipartisan panel charged with developing bipartisan budget recommendations. Defense officials and contractors aren't optimistic that budget issues will be resolved, reports The Hill; instead the defense industry anticipates sequestration will remain intact and cut another $20 billion from the Pentagon budget in January.
In the meantime, the stopgap budget passed last week that reopened government also freezes $40 billion in contracts to primes Lockheed, Northrup Grumman and General Dynamics, reports InsideDefense. (Paywall.)
The Pentagon estimates a minimum  $600 million loss of productivity due to the furlough of about 400,000 civilian workers during the recent budget shutdown, says CNN Security Clearance.
US arms sales look to remain strong to Saudi Arabia and United Arab Emirates as the Pentagon plans a $10.8 billion munition sale to further bolster air power and arsenals purchased in recent years, reports Defence Talk. The V-22 Osprey wins more international customers, but still can't sell the Army on the tilt-rotor aircraft, reports Defense Tech.
Contractors continued to protest but couldn't file with GAO until the government reopened, reported the Washington Post, which found protests increasing and a shutdown-enhanced backlog. A two-week delay on the cost-of-living-adjustment means federal and military retirees and Social Security recipients won't know their 2014 raise until Oct. 30. Don't expect much, says Gov Exec.
To the Obamacare software designers: Keep it simple, advises designer of India's complex computerized citizenry registry system, reports FCW. The Wall Street Journal reports that the Department of Health and Human Services is "committed to doing better"  with a tech surge, according to a DHH blog posting.
The Concorde, a decade in retirement, was a step backward at the time, reports FlightGlobal, yet there is still no interest in reviving the three-hour hop to London. (Login.)
Curiosity kept Mars roving for NASA although its skeletal NASA crew at home were unable to continue its Tweets back during the shutdown, but all that's over now and Mars reports have returned, says FCW.
What if a light bulb transmitted data rather than radio waves? Quarts reports LiFi could make connection to the internet 10 times faster than WiFi.
President Barack Obama can appoint head of NSA without Congressional approval and will soon have the chance to do so, reports The Hill's blog  Hillicon Valley.
Both the incoming PMA-268's program manager at NAS:Pax River, Capt. Beau Duarte and the outgoing, Capt. Jaime Engdahl, are praised at last week's change of command ceremony, reports the Navy News Service. Capt. Engdahl now steps in as program manager for NAVAIR's Precision Strike Weapons Program Office.