Pax Readies for Hurricane Preparedness Exercise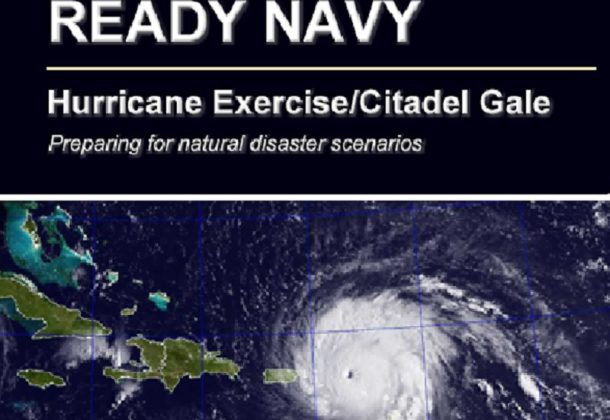 Naval installations in the National Capital Region are preparing for the US Navy's annual Hurricane Exercise/Citadel Gale 2023 set to take place April 24 through May 5, including Naval Support Activities Washington, South Potomac, and Bethesda; Naval Activity Annapolis; and Naval Air Station Patuxent River.
With this year's hurricane season fast approaching (June 1-November 30), HURREX/CG, led by US Fleet Forces Command and Commander, Navy Installations Command, prepares the Navy to respond to adverse weather conditions in US coastal regions and maintain the ability to deploy forces under the most severe conditions. It also tests the response times for accounting for sailors, Department of Navy civilians, and families in affected regions via the Navy Family Accountability and Assessment System.
This year's exercise comes on the heels of a particularly damaging hurricane season. While 2022's Atlantic hurricane season had only 14 total storms and eight hurricanes, it was one of the costliest on record due to Hurricane Ian, which alone cost more than $113 billion dollars in damage and was noted to be Florida's deadliest hurricane since 1935.
Exercises such as HURREX/CG aim to train installation staff in the particulars of storm readiness and response.
"The purpose of the HURREX/CG exercise is to prepare our personnel for the impacts of a destructive weather event such as a hurricane," said CAPT Derrick Kingsley, NAS Pax River commanding officer. "And just like our security exercises, the primary goal is to maintain the safety of personnel in the event of an emergency. The moment disaster strikes is never the time to figure out how to respond, so we train like fight."
Conducted over a two-week period, the first week of the exercise includes tracking the storm system's evolution along the Atlantic coast, simulating upgrades to the installation's Tropical Cyclone Condition of Readiness. Other planned simulations include ship sorties, aircraft evacuations, base evacuations, and disaster preparedness/response.
The second week shifts focus to procedures for recovery, including lifting evacuation orders, reopening installations, and conducting damage assessments.
Base leadership is working with leadership form other commands at Pax River to ensure minimal impact is felt as installation staff train during these exercises.
While HURREX/CG helps to determine if there are any areas where the region or the installation can improve their ability to prepare for and respond to natural disasters, personnel are encouraged to take charge of their own preparation and planning. Integral to this is keeping information up to date in the Navy Family and Accountability System and reviewing storm preparedness guidelines from resources such as www.ready.navy.mil or www.ready.gov.
"NFAAS is an essential resource for locating Navy personnel and family members during crisis or natural disasters to ensure they're safe," CAPT Kingsley said. "And the resources available to our Navy families to help them be prepare for a disaster can literally save their lives in a disaster."
Register with NFAAS here.