Pax Partnership Notes 2017 Successes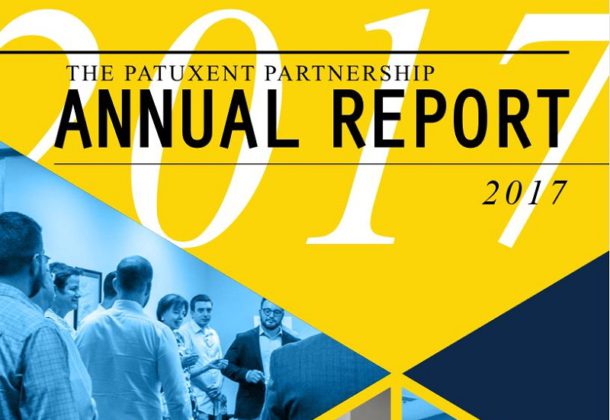 As 2017 drew to a close, The Patuxent Partnership released its 2017 Annual Report and a message from its Executive Director Bonnie Green and Board of Directors President Gene W. Townsend:
Dear friends,
It's hard to believe another year has already come to a close.
Over the past several years, we have strived to raise the bar for The Patuxent Partnership and its members. As challenges to the Navy and Southern Maryland rapidly change and evolve, we have seen our member community come together to show resilience, determination, and a shared sense of purpose.
Our Board of Directors continues to proactively support and engage, which only strengthens our efforts. What has shone through is our members' steadfast commitment to collaboration and creative thinking toward a common goal.
It's all about connecting the dots.
To that end, we saw many notable successes in 2017. TPP worked with members to develop programs around themes of mutual importance. We continued to deepen connections and conversations between Pax River, industry, and academia. We began directly engaging younger members of the workforce by hosting our first social and networking event for young professionals.
We hosted a number of briefings, two full-day symposia, and continued to partner with the Association of Naval Aviation and collaborate with the Center for the Study of Democracy at St. Mary's College of Maryland. We covered a broad spectrum of topics including cybersecurity, transportation, technology and innovation, US-China policy in the South China Sea, Russia, Poseidon & Triton, weapons capabilities, additive manufacturing, and our neighbor, NAS Patuxent River. Attendees regularly speak highly of the caliber of TPP programs and we are honored to have distinguished speakers and panelists participate throughout the year. Each time we have one of these information exchanges, it energizes the discussion and offers possibilities for deeper partnerships among government, industry, and academia. TPP is proud to be the facilitator.
We are now two-thirds of the way through our three-year grant from the Office of Naval Research, which enables us to support and improve STEM workforce development opportunities for the Navy in Southern Maryland. In alignment with NAWCAD workforce development and recruitment goals, this "STEM-for-all" grant supports education initiatives in four areas for middle school, high school, and college-level students: UAV, cybersecurity, augmented reality technology, and classical sciences.
The outcome of these programs is a generation that will be equipped to lead us into the future of science and technology by building a strategic pipeline from elementary school through college. For example, one of our 2013 scholarship recipients completed the Pathways to Engineering Program through the College of Southern Maryland and the University of Maryland Mechanical Engineering program at the Southern Maryland Higher Education Center. Upon graduation, she was offered fulltime employment at Pax River.
Above all, it is the active support and participation of our benefactors and members that makes TPP so successful. Sharing your challenges, accomplishments, and lessons learned works to benefit everyone in our community – throughout Southern Maryland and beyond. Thank you for your feedback, your engagement, and for making 2017 yet another remarkable year for The Patuxent Partnership!
We are looking forward to an even better year to come.
The 2017 annual report can be read here.
To learn more about The Patuxent Partnership and its programs, visit its Leader member page.