On Solid Ground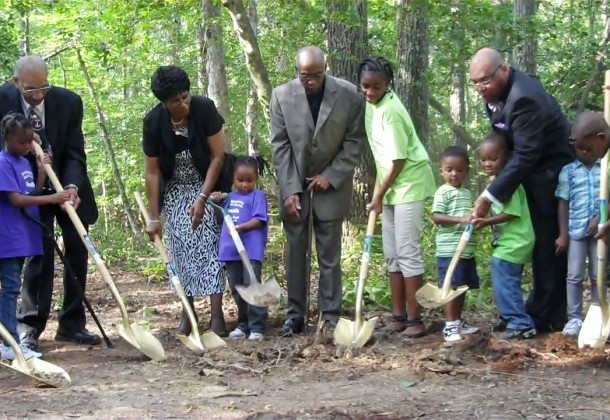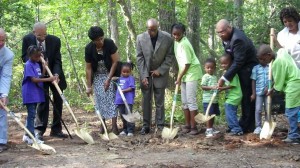 It did not matter that the road was rough and rutted on the site off Pegg Lane. The lot, discovered by Realtor Sylvia Brown, was still thickly wooded. Yet preachers in formal attire and women in high heels nevertheless walked the dusty and pocked dirt road to celebrate.
The congregation and its greater community climbed the dusty hill Saturday morning, and, after giving praise and singing of their blessings, they then broke ground on what they had that day made consecrated ground — the home of the future Great First Missionary Baptist Church of Lexington Park, Maryland.
Among the many celebrants, Sister Stephanie Miles sang about the rock the church will become on this land, and Rev. Roderick W. McClanahan, pastor of First Missionary, praised this long awaited day. The First Missionary Baptist Church Youth Ministry assisted dignitaries in breaking the ground to mark the start of construction.
 [youtube=http://www.youtube.com/watch?v=2c0ezJeXUL4]
Other celebrants included Elder James L. Bell, Sr., Pastor, God's House of Refuge C.O.G.I.C. also serving as president of the Minister Alliance of St. Mary's County and Vicinity; Rev. James F. Harris, Sr.; Rev. Dr. Michael N. Jefferson; Sister Lillie Lane; Deacon Wendell O. Williams; Deacon Wilford Williams; Sister Jennifer Brown; Rev. Dr. Raymond T. Matthews, Moderator of Potomac River Baptist Association and Deacon Mazerine Wingate.
Also thanked and offering congratulations were Brian Bucci of BB&T Bank and builder W. M. Davis.