October is Domestic Violence Awareness Month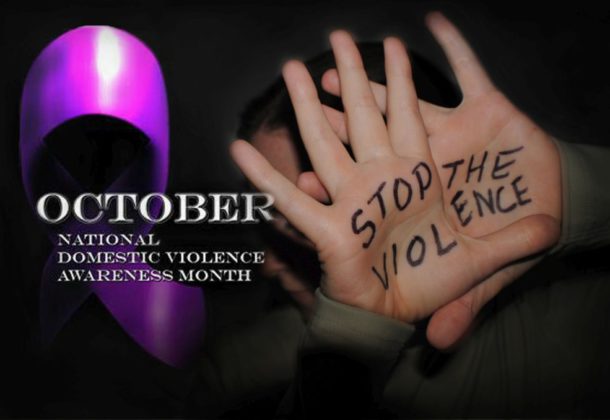 "When you have been hit you think, 'This is cold-blooded, controlling, calculating stuff'. You think, 'How can I be in this situation?' But you want to make it work. You love this person and you think it must be your fault; and he tells you it is. He's attractive and successful; people think he's wonderful; he's earning lots of money. You think, 'It must be me. How come I do this to him?'
When I finally told him to leave he was furious. I'd never seen him so angry. He pushed me back on to the sofa and hit me again and again and again. Then he grabbed me by the hair; it was long in those days; and dragged me upstairs to our bedroom. He disappeared and when he came back he had a knife. I've never been more scared than I was at that moment."
This story is all too familiar, according to Walden Sierra, which is again, this October, highlighting Domestic Violence Awareness Month following the original three key themes from 1981:
 Mourning those lost to domestic violence
  Celebrating those who have survived
  Connecting those who work to end violence
On Sept. 14, 2016, 22 domestic violence programs in Maryland participated in the National Census of Domestic Violence Services. On that day, 956 victims were served: 407 found refuge in emergency shelters or transitional housing provided by the local domestic violence programs, and 549 adults and children received non-residential assistance and services, including counseling, legal advocacy, and children's support groups.
Walden has been supporting victims of domestic violence in Southern Maryland for more than 40 years, assisting individuals and families to safely stabilize their crisis situation. For some, this may simply involve contacting the Walden hotline and speaking with a crisis aide. Or visiting the center and speaking with a counselor. Services are available to anyone with any type of crisis in St. Mary's County, including crisis counseling and advocacy services for children, adolescents and adults impacted by domestic violence and rape crisis.
Services can be accessed by calling the 24-hour hotline 301-863-6661 • Same day, walk-in service access is available at the at Hope Place at 21770 FDR Blvd., Lexington Park, MD 20653.
If a victim of domestic violence, sexual assault or stalking is in an unsafe situation, emergency services and outreach accompaniment support are initiated. This may involve, but not be limited to, safety planning, short-term emergency sheltering, accompaniment to forensic exams, facilitation of access to protective orders, and referral to additional Walden, or community partner, services.
Walden's Beautiful Women Support Group, an empowerment/support group for victims of intimate partner violence, meets at 5 pm every Tuesday at Hope Place in Lexington Park. Call 301-997-1300, ext. 802 for more details.
In Maryland, there were 55 domestic violence-related deaths between July 2015 and June 2016, according to the most recent data from the Maryland Network Against Domestic Violence.
There were 44,821 peace and protective orders filed in Maryland in fiscal year 2015. There were 15,301 domestic violence-related crimes in Maryland that year as well. But those were only what was reported to police. Many victims do not report crimes. And these numbers only include crimes reported by current/former spouses/cohabitating partners, and do not include crimes reported by dating partners who do not live together.
Anyone can be an abuser. They come from all groups, all cultures, all religions, all economic levels, and all backgrounds. They can be your neighbor, your pastor, your friend, your child's teacher, a relative, a co-worker, anyone. It is important to note that the majority of abusers are only violent with their current or past intimate partners. One study found 90 percent of abusers do not have criminal records and abusers are generally law-abiding outside the home.
There is no one typical, detectable personality of an abuser, but they often display common characteristics:
An abuser often denies the existence or minimizes the seriousness of the violence and its effect on the victim and other family members.
An abuser objectifies the victim and often sees them as their property or sexual objects.
An abuser has low self-esteem and feels powerless and ineffective in the world. He or she may appear successful, but internally, they feel inadequate.
An abuser externalizes the causes of their behavior. They blame their violence on circumstances such as stress, their partner's behavior, a "bad day," on alcohol, drugs, or other factors.
An abuser may be pleasant and charming between periods of violence and is often seen as a "nice person" to others outside the relationship.
There can be warning signs of abusive behavior. Red flags and warning signs of an abuser include, but are not limited to:
Extreme jealousy
Possessiveness
Unpredictability
A bad temper
Cruelty to animals
Verbal abuse
Extremely controlling behavior
Antiquated beliefs about roles of women and men in relationships
Forced sex or disregard of their partner's unwillingness to have sex
Sabotage of birth control methods or refusal to honor agreed upon methods
Blaming the victim for anything bad that happens
Sabotage or obstruction of the victim's ability to work or attend school
Controls all the finances
Abuse of other family members, children, or pets
Accusations of the victim flirting with others or having an affair
Control of what the victim wears and how they act
Demeaning the victim either privately or publicly
Embarrassment or humiliation of the victim in front of others
Harassment of the victim at work
Since 1973 Walden has provided a comprehensive range of behavioral health treatment, and crisis and recovery services designed to provide clients with the help they need, when they need it. Walden has a full continuum of services to ensure each client's journey is planned and delivered with continuity of care in mind. It operates from locations across Southern Maryland: Waldorf, Charlotte Hall, Lexington Park, and California. The crisis hotline, one of the oldest in the country, is available 24/7 on 301-863-6661.
For more information about Walden Behavioral Health, visit its Leader member page.