Not Ditch Digging, To Build a Road Takes Experts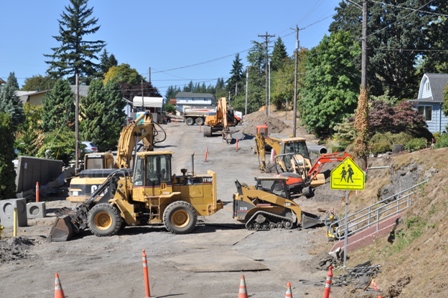 Posted by
Bob Taylor Engineering
Pax II
Great Mills Trading Post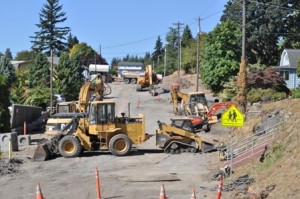 Leading Edge  
In 1639 "Mattapany Path" became the first County road; it ran from St. Mary's City to the Patuxent River, according to a County Road History. As early as 1704 it becomes apparent that road building has already ceased to be simple.
In 1704, according to the history, "Justices of the County Court were empowered to record all "publick roads" and to appoint overseers to ensure the roads were "hereafter clear'd and wll Grubbd fitt for traveling twenty foott wide." Roads were also to be kept clear of all obstructions 15 feet above the surface of the road for carriages, carts and horsemen. The specified road width was twenty (20) feet."
In the video below Bob Troutman of Great Mills Trading Post describes what goes into constructing a road today, including the stability and compaction tests on the land as well as the materials testing for the road composite itself. His firm uses Bob Taylor Engineering (BTE).
Geo-engineers' business is to look underground, test and assess what they find and determine what the surface can hold. The services are paramount to environmental site assessments, engineering design of road and building loads and stability of construction.
BTE grew from a sole proprietorship in 1981, incorporating in 1989 and is today a Lexington Park business employing more than two-dozen field, testing and administrative professionals. In addition to field investigations Bob Taylor Engineering operates a federally certified laboratory to allow complete in-house testing and assessments for clients.
Technicians are certified by the American Concrete Institute (ACI), Maryland Department of the Environment (MDE) and Mid-Atlantic Region Technical Program (MARCP) and Cement and Concrete Reference Laboratory (CCRL) programs.
[youtube=http://www.youtube.com/watch?v=jrGqgs7tBJc]