Newest Anti-Sub Warfare Aircraft Topic of ANA-TPP Panel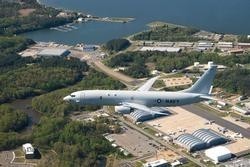 Posted by
The Patuxent Partnership
Pax II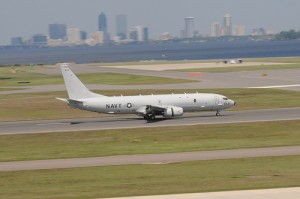 The Patuxent Partnership and the Association of Naval Aviation, Patuxent River Squadron, announce their next panel:  "P-8A Poseidon – Soon to Hit the Fleet!" on Thursday, May 2, will be at the Patuxent River Naval Air Museum and is open to the public.
Navy's newest anti-submarine warfare aircraft is based on the Boeing 737. The P-8A Poseidon is replacing the P-3, which is reaching the end of its service life. As the Navy's Maritime Patrol workhorse, the various P-3 variants have been vital to naval operations for more than 56 years and are still operated in 17 countries. The Poseidon is designed as an open-architecture, net-centric aircraft that allows for rapid and affordable modular upgrades to meet evolving threats and diverse mission requirements. It is equipped with the latest sensors, weapons, and links to counterpart systems, creating improved surveillance and upgraded attack capabilities. These improvements will ensure worldwide responsiveness to operational needs.
Rear Admiral William Moran, Director, Air Warfare (OPNAV N98) will be the keynote speaker and panel moderator. RADM Paul Grosklags, Program Executive Officer, Air ASW, Assault & Special Mission Programs, PEO(A) (invited), RDML(s) Michael Moran, Military Assistant to the Undersecretary of Defense for Acquisition, Technology and Logistics, CAPT Scott Dillon, Program Manager, PMA 290, Maritime, Patrol and Reconnaissance Aircraft Program Office and CDR Jason Rider, Commanding Officer, VX-20 are the panelists.
"The P-8A Poseidon is first and foremost a long-range anti-submarine warfare (ASW) aircraft with additional capabilities in anti-surface warfare, intelligence, surveillance and reconnaissance," Grosklags said. "The P-8A will be employed globally in broad-area maritime and littoral operations."
"The P-8A Poseidon will be invaluable to maritime surveillance," said Bonnie Green, Executive Director, The Patuxent Partnership. "We look forward to learning about this important upgrade in capabilities."
"The Pax River ANA Squadron is excited about teaming with The Patuxent Partnership for another great event," said Mark Converse, Commanding Officer of the local ANA Squadron. "This will be a superb opportunity for the public to learn about the significant contributions that a new platform in Naval Aviation, the P-8A Poseidon, will soon be making to our National Defense capabilities."
There is a pre-program reception at 5:00 p.m. The panel discussion begins at 5:30 p.m. and concludes at 7:00 p.m. Advance payment of $10.00 per person is required prior to 12 Noon, Tuesday, April 30, by Visa or Mastercard at www.paxpartnership.org or by cash or check at The Patuxent Partnership, 21789 N. Coral Dr., Suite 2C, Lexington Park, MD 20653. Online advance registrations completed without making payment will be $15 at the door. Onsite registration will be $15.00, if seats are available.  No refunds are permitted. Any proceeds after expenses go to The Association of Naval Aviation's Squadron #18 and Patuxent River Naval Air Museum Association. Recommended attire is business casual/uniform of the day.
The Patuxent Partnership works with government, industry and academia on initiatives in science and technology, hosts programs of interest to NAVAIR and the broader DoD community, and supports workforce development including education initiatives and professional development.  Visit www.paxpartnership.org or call 301-866-1739.
Over the last 100 years, Naval Aviation has become a primary instrument of our national security.  The Patuxent River Squadron of the Association of Naval Aviation is committed to educating the general public on the importance of Naval Aviation in the defense of the United States and its allies.  Membership in the Association is open to all. To join, visit http://www.anahq.org/ and click on Membership.