Newborns to Sport Red Hats at MedStar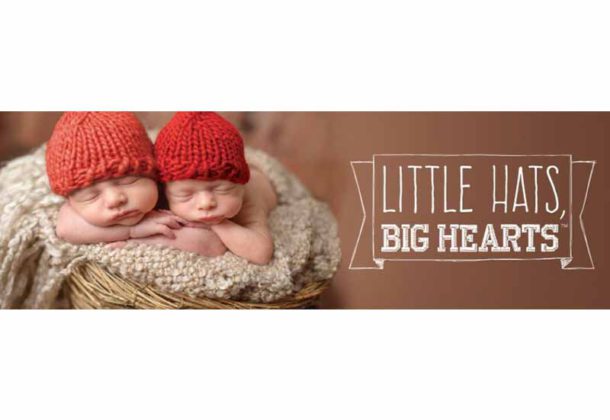 Babies born at MedStar St. Mary's Hospital will have some new attire for the month of February 2018. Eschewing traditional pastel colors normally worn by newborns, the Women's Health & Family Birthing Center is participating in the American Heart Association's Little Hats, Big Hearts campaign, which is meant to raise awareness of congenital heart defects.
However, the hospital needs help to make it happen. People in the community are invited to knit or crochet newborn-sized hats using red cotton or acrylic yarn. Donated hats will be shared with the families who deliver babies in February at MedStar St. Mary's. Parents of the newborns will be given resources about congenital heart defects and can add the hashtag #littlehatsbighearts to their social media posts, if they wish. Sample hat patterns and more information are available at on the American Heart Association website.
The donated red hats are being accepted throughout January and February, and can be dropped off at the Volunteer Services office in the hospital's main building in Leonardtown. Donors are asked to include the crafter's name, address, and phone number with all donations.
For more information about the red hats, contact Mary B. Cheseldine, volunteer and student services coordinator, by emailing Mary.Cheseldine@MedStar.net or calling 301-475-6453.
About MedStar St. Mary's Hospital
MedStar St. Mary's Hospital is a full-service community hospital, delivering state-of-the-art emergency, acute inpatient and outpatient care in Leonardtown, Maryland. Nestled in a waterside community, MedStar St. Mary's provides advanced technology with a dedication to excellence in all services provided. The not-for-profit hospital has been named among the nation's Top 100 Hospitals and is an eight time recipient of the prestigious Delmarva Medicare Excellence Award. In addition, MSMH received the Maryland Performance Excellence award at the Platinum level in 2014 – the highest in the state. The staff is committed to providing quality and compassionate medical care for all patients by coupling innovation with an outstanding team of medical staff members, associates, and volunteers.
For more information and one-click access to a full list of resources available at MedStar St. Mary's Hospital, visit its Leader member page.