Navy Urged to Revise Ship Delivery Policy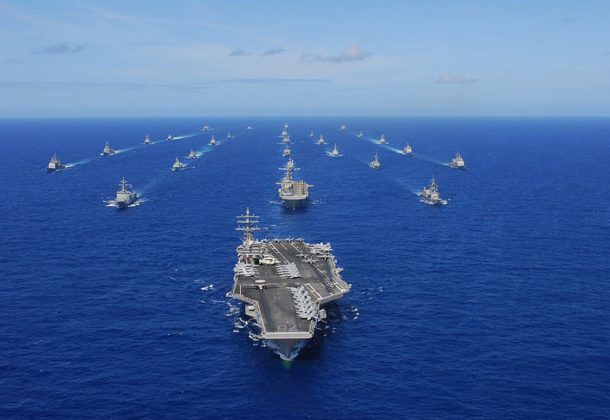 Morning Coffee is a robust blend of links to news around the Internet concerning the Naval Air Station Patuxent River

economic community. The opinions expressed here do not reflect opinions of the Leader's owners or staff.
The Government Accountability Office has urged the US Navy to revise its ship delivery policy to keep defective and incomplete ships from entering the service branch's operational fleet, reports ExecutiveGov.com. Shipbuilders often deliver ships to the Navy with multiple defects, according to the GAO.
Air Force Gen. Mike Holmes wants more help to counter unmanned aerial systems that are flown near military airfields, Defense News reports. There are no clear regulations governing what the military is allowed to do once a drone violates policy.
The US House of Representatives passed the $696 billion 2018 National Defense Authorization Act on Friday with a vote of 344 to 81, UPI reports. The bill includes $75B in Overseas Contingency Operations funding, with $10B in OCO funds earmarked for base items, such as $6B for shipbuilding. The budget still faces a number of obstacles.
The future of the Army's Warfighter Information Network–Tactical, or WIN-T, hangs in a balance of uncertainty after the Senate authorized funding cuts for the mobile satcom network, reports Defense Systems.
Under Trump administration plans, the US Cyber Command would eventually be split off from the National Security Agency. Military Times reports those plans are being finalized and they will revamp the command for defensive and offensive cyber operations in hopes of intensifying the US's ability to wage cyber war against its enemies.
DoD has sent selected companies its cyber wish list, Fifth Domain reports. Items on the list include autonomous cyber defense; cyber situational awareness, planning and decision support; cybersecurity for infrastructure, endpoints and edge devices; control systems, internet of things security; and hardware and software assurance.
President Donald Trump is scheduled to preside over the commissioning of the USS Gerald R. Ford, the country's newest aircraft carrier, later this week. Navy Times reports the president had previously criticized some of the new technology on the carrier because of cost overruns and delays.
Motley Fool reports the F-35 now costs less to build than the F/A-18 Hornet. Here's the military math: $5.58 billion in spending to acquire 74 F-35s works out to an average price of $75.4 million per fighter. That's cheaper than the $80M unit price floated last month, and cheaper than the $79M price that Boeing quoted for an Advanced Super Hornet.
In Britain, the Royal Air Force's US-built F-35B Lightning IIs are set to cost hundreds of millions over budget, the Daily Mail reports. Several problems have sent costs soaring.
The Japanese government sees the threat from North Korea rising to a new level as that country makes steady progress in its nuclear and missile development program, Nikkei Asian Review reports.
Thermal images of North Korea's main nuclear plant suggest that Pyongyang has reprocessed more weapons-grade plutonium than previously thought, reports Deutsche Welle. Experts estimate that North Korea could have as many as 20 nuclear bombs and could produce one more each month.
Future military veterans won't have to worry about their education benefits expiring if newly proposed legislation in the House makes its way to the president, Military Times reports. The Harry W. Colmery Veterans Education Assistance Act of 2017 would make several changes to the Post-9/11 GI Bill.
Contracts:
Northrop Grumman Systems Corp., Herndon, Virginia; and Bellevue, Nebraska, has been awarded a $98,000,000 indefinite-delivery/indefinite-quantity, cost-plus incentive-fee contract action for the overall operations and maintenance of command and control capabilities for US Strategic Command (USSTRATCOM). This contract provides software engineering, system engineering, testing, integration, installation, security engineering, administrative and additional support tasks required to provide reliable, effective, and user-friendly, net-centric capabilities contributing to the overall operations and maintenance of USSTRATCOM C2 capabilities for the commander of USSTRATCOM, supported combatant commands, component commands, and other authorized users with modernized mission critical communications and computer systems utilizing common integrated information and decision toolsets, applications and capabilities in a fully-synchronized, net-centric information environment, necessary to maintain deterrence and, if required, dominate in conflict. Work will be performed at Offutt Air Force Base, Nebraska, and is expected to be complete by Feb. 28, 2023. This award is the result of a competitive acquisition, and one offer was received. Fiscal 2017 operations and maintenance funds in the amount of $45,000 are being obligated at the time of award. The 55th Contracting Squadron, Offutt Air Force Base, Nebraska, is the contracting authority (FA4600-17-D-0006).
Johns Hopkins University/Applied Physics Laboratory (JHU/APL), Laurel, Maryland, has been awarded a $92,000,000 cost-plus-fixed-fee, indefinite-delivery/indefinite-quantity contract with cost-reimbursable contract line item numbers, for continuing the Air Force Nuclear Weapons Center's (AFNWC) strategic partnership with JHU/APL, by procuring engineering for complex systems, as well as research and development of specialized functions. Contractor will provide support in the AFNWC's mission in development planning (concept development and capability planning and analysis), strategic system capability assessments (Air Force nuclear vulnerability assessments), strategic and tactical air delivered and ground-based nuclear weapon system capability, and nuclear command, control and communications. Work will be performed in Laurel, Maryland, and is expected to be complete by June 16, 2024. This award is the result of a sole-source acquisition. Fiscal 2017 operations and maintenance funds in the amount of $1,038,030 are being obligated at the time of award. The AFNWC, Kirtland Air Force Base, New Mexico, is the contracting activity (FA9422-17-D-8005).
General Dynamics Information Technology, Fairfax, Virginia, was awarded a $14,876,151 modification (F40606) to contract W91QUZ-06-D-0012 for combined mission command network operations and maintenance services. Work will be performed in the Republic of Korea, with an estimated completion date of July 31, 2018. Fiscal 2017 operations and maintenance (Army) funds in the amount of $14,776,086 were obligated at the time of the award. US Army Contracting Command, Yongsan, Korea, is the contracting activity.